Britain Needs 30 Gas Plants by 2025 to Fill Power Supply Gap
by
Electricity demand may exceed supply by 55% in nine years

Imports put U.K. supply at mercy of markets, engineers say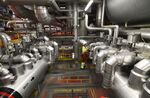 The U.K. must build the equivalent of 30 gas-fired power plants by 2025 to fill a gap in electricity supply as coal and nuclear stations close.
Electricity demand will exceed supply by as much as 55 percent within nine years, the Institution of Mechanical Engineers said in a report published Tuesday. Building only gas plants to fill the gap is "unrealistic" as Britain has constructed just four in the past 10 years, according to the report.
"The U.K. is facing an electricity supply crisis," Jenifer Baxter, the head of energy and environment at the London-based institution, said in a statement. "Imports will put the U.K.'s electricity supply at the mercy of the markets, weather and politics of other countries, making electricity less secure and less affordable."
Britain plans to shut its coal-fed stations by 2025, about the same time most of the nation's nuclear fleet will be retired. The government has tried to incentivize new-build stations through a mechanism that pays plants to be available from 2018. Not enough projects are being built, leaving a shortfall even though the 3.2-gigawatt nuclear station at Hinkley Point is scheduled to come online in 2025, according to the report.
The U.K. Infrastructure Commission must "urgently" implement changes needed to deliver security of electricity supply with no coal-fired generation, the institution said. These include investment in research for renewables, energy storage, combined heat and power and power station design.
Power Demand
On a typical day, the U.K. uses 38.3 gigawatts of electricity, 22 percent of which is met by coal, 27 percent from gas, 23 percent nuclear and 13 percent wind, the institution said in the report. The rest is biomass and power imports from France and the Netherlands.
The loss of coal power, the closure of nuclear stations and growth in demand "will therefore be significant, leaving a potential supply gap of 40 percent–55 percent, depending on wind levels," according to the report.
Before it's here, it's on the Bloomberg Terminal.
LEARN MORE