BHP Has Room to Answer Doubters as Commodities Rout Batters Debt
by and
Miner is fourth-riskiest credit in the Australian CDS index

More expensive to insure BHP debt than retailer Woolworths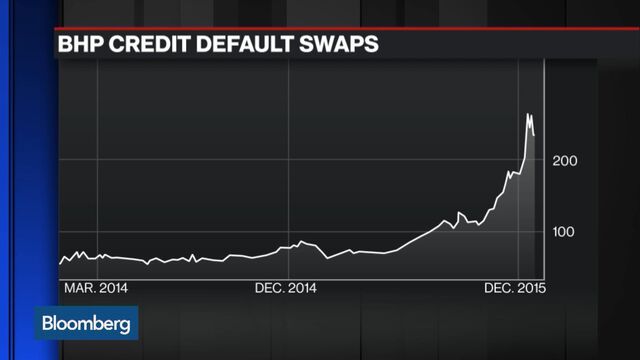 BHP Billiton Ltd.'s debt has scope to rebound if Chief Executive Officer Andrew Mackenzie can stick to his pledge to maintain a "solid A" credit rating for the world's biggest miner.
A plunge in metal and energy prices this month drove the cost of protecting BHP bonds with credit-default swaps to levels unseen since 2009 and the company is priced as the fourth-riskiest in the 25-member iTraxx Australia index. It's more expensive to insure than borrowers such as retailer Woolworths Ltd., rated three steps lower than the miner.
While BHP is under pressure amid supply gluts in commodities including iron ore and oil, Mackenzie does have room to appease bondholders by potentially reining in shareholder dividends or raising fresh equity. Even if it were downgraded from A+ to A, the miner would still carry a stronger credit rating than about half the iTraxx index.
"The market's wildly oversold some of these things, particularly in the CDS market," said Michael Bush, a Melbourne-based credit strategist at National Australia Bank Ltd. "The higher quality stuff has been included in the general sector selloff, which I think is unwarranted."

A plunge in iron ore prices has crimped earnings even as BHP's production of the steelmaking material has been ramped up, while the rout in oil is hitting the Melbourne-based firm's petroleum business. It's also encountering unexpected costs following a deadly disaster at its Brazilian iron ore joint venture in November.
Despite this, the company is able to extract resources at a lower cost than many of its peers and remains cash-flow positive even in current market conditions.
There has been speculation that the company could cut its shareholder dividend, while Liberum Capital Ltd. analyst Richard Knights has suggested BHP might look to raise as much as $10 billion in new equity capital.
Own Destiny
"Their destiny is well and truly still in their own hands at these kind of price levels, whereas others are looking more marginal," said Brendon Cooper, a credit strategist at Westpac Banking Corp. "We would have thought that the dividend has to come under review at the moment."
Mackenzie, who is scheduled to unveil first-half earnings on Feb. 23, said in an operational update last week that the producer is reducing costs and focused on improving operational performance.
"In this environment, we are also committed to protecting our strong balance sheet so we have the financial flexibility to manage further volatility and take advantage of the expected recovery in copper and oil over the medium term," he said.
The company currently carries an A+ credit ranking at Standard & Poor's and Fitch Ratings, the fifth-highest score, and an equivalent A1 assessment at Moody's Investors Service, which has the firm on review for downgrade and is contemplating potential cuts for a slew of miners across the world. S&P and Fitch both have a negative outlook on the Anglo-Australian mining giant.
"We continue to target a solid A balance sheet through the cycle," a spokesperson for BHP said in an e-mailed response to questions. "A strong balance sheet is a fundamental enabler of our strategy - it must always come first."
The recent selloff has pushed the cost of protecting BHP debt against non-payment up 67 basis points since Dec. 31 to 248 basis points on Tuesday. The contracts reached as much as 270 basis points on Jan. 14, 130 basis points more than the iTraxx index. That's the biggest differential since the global squeeze of 2008.
Investor Losses
The yield premium over the swap rate on BHP's A$1 billion ($704 million) of March 2020 bonds widened to 184 basis points as of 11:40 a.m. on Wednesday in Sydney, based on Commonwealth Bank of Australia prices, having been sold at a gap of 87 basis points in March 2015.
BHP's U.S. currency debt delivered investors a loss of 9.5 percent in the 12 months through Tuesday, according to Bank of America Merrill Lynch indexes. That compares with a decline of 7.1 percent for rival Rio Tinto Group.
The company's share price has fallen 15 percent in Sydney since Dec. 31.
With BHP having quality assets and a "demonstrated track record of reducing costs, both operational expenditure and capital expenditure," investors can capitalize on the bearish sentiment that's weighed on the miner's shares and debt securities, according to Peter O'Connor, a Sydney-based senior analyst at Shaw and Partners.
"For every measure I look at, are we in value territory?" O'Connor said by phone last week. "Categorically yes. There's an opportunity there."
Before it's here, it's on the Bloomberg Terminal.
LEARN MORE