AT&T Profit Meets Estimates Even as Subscriber Growth Slows
by
170,000 postpaid phone users left the carrier last quarter

63 cents a share matches average of estimates by Bloomberg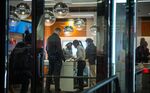 AT&T Inc., the second-largest U.S. wireless carrier, is showing investors the key to its survival in a maturing market: Protect profit rather than chase customers with discounts.
AT&T avoided margin-crushing price battles with T-Mobile US Inc. and Sprint Corp. last quarter, and was able to match analysts' estimates with a profit of 63 cents a share. But avoiding the sales skirmish cost the Dallas-based company 170,000 monthly mobile phone customers, leaving it with just 526,000 new subscribers, all of them tablet users. The total marks lowest monthly subscriber gain among industry peers in the quarter. Five analysts surveyed by Bloomberg estimated AT&T would gain 555,000.
"We might lose the $35-a-month, feature-phone customer" to a lower-priced competitor, and AT&T is OK with that, Chief Financial Officer John Stephens said in an interview Tuesday. "We continue to be rational about pricing."
The maturing U.S. wireless market has forced AT&T to look for growth in areas like mobile video and satellite TV. The company is now offering an unlimited wireless data plan in combination with a pay-TV subscription. Stephens said more of these bundles are coming.
The shares declined 2 percent to $34.68 in New York after the market closed.

AT&T signed up 696,000 tablet users as well as 469,000 pay-as-you-go customers through its Cricket and GoPhone prepaid brands, compared with 622,000 tablet and 466,000 prepaid phone customers in the third quarter.
Sales were $42.1 billion, compared with a projection of $42.7 billion.
The company's wireless margin before interest, taxes, depreciation and amortization from service revenue was 43.2 percent. Analysts estimated 43.18 percent on average.
The carrier lost 240,000 U-verse TV customers while gaining 214,000 DirecTV satellite subscribers.

Before it's here, it's on the Bloomberg Terminal.
LEARN MORE