AIG to Cut Hedge Fund Bets After 'Greatly Disappointing' Results
by and
Insurer scales back after four years of poor returns, CEO says

Investing shift to help free up $2 billion of capital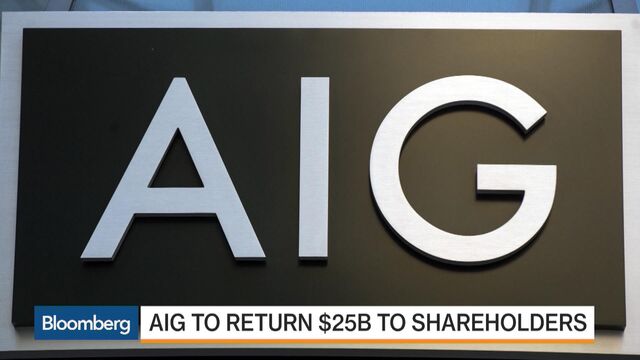 American International Group Inc. Chief Executive Officer Peter Hancock is scaling back hedge fund bets as he seeks to improve returns and free up more cash to return to shareholders.
"It's not an efficient use of our capital, so we'll be diminishing our allocation to hedge funds," Hancock told Bloomberg's Betty Liu in a televised interview on Tuesday after a presentation in which he announced plans to generate $25 billion over the next two years that can be used for stock buybacks or dividends. "About $2 billion of that return to shareholders is by de-risking the asset side of our balance sheet."

Insurers have long highlighted how alternative holdings like private equity and hedge funds can beat bond markets for companies willing to sit tight during periods of volatility. Part of that strategy has been called into question in recent years as hedge funds struggle while regulators and ratings firms stress the importance of having liquid holdings available to pay claims. AIG generated an annualized yield of just 2.36 percent in the first nine months of last year on hedge funds.

"The assumed returns were between 8 and 10 percent, historically, and obviously the realized returns over the last three or four years have been greatly disappointing compared to that," Hancock told investors.
Hedge funds, which have more restrictive terms and charge higher fees than other investment vehicles, have struggled since the financial crisis. The average hedge fund dropped 1 percent globally in 2015, according to data provided by Hedge Fund Research Inc., while the Standard & Poor's 500 Index fell 0.7 percent. It marked the seventh-straight year that the stock index outperformed the average hedge fund.
Adding Dachille
AIG had about $11 billion allocated to hedge funds as of the third quarter, part of an investment portfolio valued at more than $340 billion. Hancock hired his former J.P. Morgan & Co. colleague Doug Dachille in July as chief investment officer and expanded his role in December by assigning him to oversee the science group, which uses data to support underwriting decisions.
The CEO updated shareholders on his strategy Tuesday after activist investor Carl Icahn faulted AIG for failing to meet profitability targets, and pressured Hancock to shrink the company. He responded with the $25 billion capital-return plan.
Profits from operating units and tax benefits will contribute up to $10 billion of that sum, AIG said in a slide show, while proceeds from divestitures will add as much as $7 billion. The company said reinsurance deals, in which other firms take on risks that were initiated by AIG on life contracts, could provide $4 billion or more. AIG also projected benefits from reducing leverage and the asset shift.
Private equity was more successful for AIG last year, with an annualized yield of 14.7 percent on about $7.2 billion of holdings in the first nine months. The insurer committed $1.5 billion toward a lending venture in 2014.
Before it's here, it's on the Bloomberg Terminal.
LEARN MORE