Abe Cutting Off Zombies Spells Opportunity for Topaz, Keystone
by
Government considering reducing guarantees on loans to firms

Keystone charges 10% interest rate, Topaz as much as 8%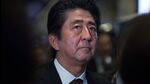 Prime Minister Shinzo Abe's move to make it tougher for struggling companies to borrow from commercial lenders could spell opportunity for turnaround specialists.
Abe's government is considering reducing guarantees of as much as 100 percent on loans to smaller companies to cut fiscal debt and encourage banks to improve lending practices, according to the economy and trade ministry. As deposit takers avoid the risk of maintaining support for all but the largest indebted, funds such as Topaz Capital Inc. and Keystone Partners Co. may step in.
"Banks want companies to raise funds from elsewhere to rebuild their business and then repay loans," said Tomoaki Tsutsumi, a co-chief executive officer at Keystone Partners, a Tokyo-based corporate reconstruction firm that manages a 15.4 billion yen ($130 million) fund. "We're going to see more cases of companies asking funds for risk money that banks won't lend."
Topaz charges as much as 8 percent for loans backed by collateral, while Keystone's interest rates are around 10 percent, at a time when average rates on new loans in Japan are near record lows at 0.92 percent, according to Bank of Japan data. Bankruptcies in the nation increased from a year earlier for the first time in 2 1/2 years in the final three months of 2015, according to Teikoku Databank Ltd.

Japanese private equity funds are also getting involved in turnaround deals. Integral Corp. invested 9 billion yen in Skymark Airlines Inc. last year after the carrier filed for bankruptcy, and New Horizon Capital Co. acquired ceramic retailer Tachikichi Corp. for 1.1 billion yen.
Tsutsumi at Keystone estimates that there's about 20 trillion yen to 30 trillion yen in so-called debt requiring caution in Japan, with such borrowers representing potential investment targets. The Financial Services Agency defines the category as loans on which banks have reduced or forgiven interest, debt whose repayment has been delayed, or liabilities of companies whose business performance is weak.
"If banks carry out voluntary liquidation of companies including forgiving debt, that could hurt their capital or worsen their earnings," said Tsutsumi. "Funds are increasingly getting asked to help."
Banks often find it hard to increase risky investments after forgiving a company's debt or carrying out legal liquidation, so funds take over, said Takumi Fukuda, a director at Topaz, which started its first fund in 2014 and oversees 7 billion yen.
Reviving Retailer
In one case, Topaz supplied working capital last June to a retailer after the company made a settlement outside of court and its bank declined to lend to it. The retailer had a positive cash flow and collateral, and is now able to borrow again from a local financial institution, said Fukuda, declining to name the firm because of a confidentiality agreement.
The government-sponsored Japan Federation of Credit Guarantee Corporations backs 80 percent of debt, or 100 percent in special cases, for small- to medium-sized companies to support their funding. In fiscal 2014, the system guaranteed about 11 percent of the 243.6 trillion yen in outstanding debt to smaller companies, according to economy and trade ministry data.
A non-binding resolution in parliament last year called on the government to review the program in the interest of encouraging corporate rebuilding and cutting fiscal debt, and Premier Abe said he would push banks to work to improve companies' management and productivity.
Election Factor
The prime minister probably won't put too much pressure on smaller, indebted companies with Upper House elections coming up in the summer, according to Rie Nishihara, an analyst at Mizuho Securities Co.
"Banks may be becoming stricter about lending to the lowest rung of small- and medium-sized companies, and that may be leading to bankruptcies," Nishihara said. However, "regional votes are important for the Upper House elections, and policy toward the smaller firms will likely be protective."
Bankruptcy cases in Japan increased from a year earlier for the first time in nine months in December, after dropping for the seventh straight year in 2015, according to data from Tokyo Shoko Research Ltd. A confidence index for small Japanese companies dropped to 47.2 in January, the lowest reading since June, according to Shoko Chukin Bank data released Wednesday.
Ken Niimura, a partner at Topaz Capital, said that for companies that can't recover on their own, banks are asking funds to arrange mergers with other firms or investment from strategic partners.
"Two years ago, the five cases we handled had to do with providing regular working capital, but last year, almost all of the eight cases involved corporate rebuilding," Niimura said.
Before it's here, it's on the Bloomberg Terminal.
LEARN MORE