Vimeo Thinks the World Needs Another Video Subscription Service
In an attempt to attract talent, the company is trying to convince video creators that they'll never make a living from advertising.
By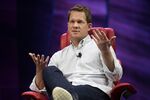 Vimeo is joining the increasingly lengthy roster of companies hoping to turn growing enthusiasm for watching videos online into monthly subscription fees. The video-sharing site will outline plans for a pay-as-you-go service in the next several months, said Chief Executive Officer Kerry Trainor, who hinted that the service will work a lot like Netflix—except stocked with the high-minded independent videos and documentaries for which Vimeo is known.