Vietnam's Premier Rejected for Top Job
by
Prime Minister Dung faces retirement when term ends this year

Current Communist Party chief may get his term extended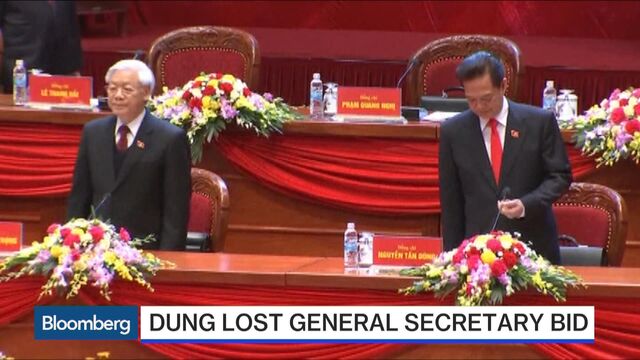 Reformist Vietnam Prime Minister Nguyen Tan Dung was not among 200 Communist officials elected to the party's new central committee, ending his bid to move into one of the most influential roles in the country.
Dung's name did not appear on a list of newly-elected central committee members after delegates to the congress voted Tuesday, according to an official list distributed at the meeting. The congress had earlier approved his request to withdraw his nomination for the committee that will oversee the party's affairs until 2020, three party officials said, asking not to be identified as the talks are private. Dung is reaching the end of his maximum two terms as premier, and without a key post, his influence over Vietnam's economic and security policies is set to diminish.
Under party rules, Dung's withdrawal of his nomination -- a technical formality -- had to then be rejected by congress delegates for him to stay in contention for party general secretary. Instead, party leaders have lined up behind current General Secretary Nguyen Phu Trong, who represents a more conservative faction, in his efforts to secure another term. Trong was elected to the central committee Tuesday, paving the way for him to extend his term.
"If Dung is not a central committee member, he is out," said Nguyen Manh Hung, professor emeritus at George Mason University in Virginia. "He is retired. He will not be back. He did not have enough votes."
Dung has opened the economy to greater market forces and expanded ties with the U.S., Vietnam's former wartime foe, but also faced months of political infighting. At stake for the new leadership is how much -- or how fast -- Vietnam moves away from Communist neighbor China, with whom it has territorial disputes, and toward the U.S. Under Dung, Vietnam has backed a large U.S.-led Pacific trade pact that does not include China.
The newly-elected central committee will vote on a new general secretary Wednesday. President Truong Tan Sang also did not make it to the list of committee members. Representatives of Dung's office were unavailable for comment Tuesday.
Dung will probably opt to retire rather then risk weakening the party, said Le Hong Hiep, a visiting fellow at the Institute of Southeast Asian Studies in Singapore. He is due to step down as premier after the National Assembly votes on his presumed successor, Deputy Prime Minister Nguyen Xuan Phuc, in coming months. Phuc was elected to join the new central committee.
Destabilizing Party
"I think one of the biggest concerns for him was if he kept fighting on it would have destabilized the party system, and once the party system was unsettled he and his family would suffer," Hiep said.
Vietnamese stocks Monday posted the steepest advance since 2012 following Trong's nomination for general secretary. Valuations last week sank to a five-month low amid political uncertainty. The benchmark index fell 0.9 percent Tuesday.
Trong's influence over the politburo and party procedures made him a formidable rival, Hiep said. Still, his success caught some observers by surprise, given Dung retains his own supporters.
"The party congress has spoken," said George Mason University's Hung, referring to Dung. "The next question is: will he be given an opportunity to represent Vietnam at the U.S.-Asean Sunnylands summit and redeem himself with diplomatic success?"
California Meeting
U.S. President Barack Obama will host leaders from the Association of Southeast Asian Nations next month in California, the first such gathering held in the U.S. The Obama administration is seeking to preserve America's influence in the region against China's growing military clout, which is backed by its increased economic heft.
Frictions rose this month after Chinese planes landed on a new airstrip on reclaimed islands in the Spratly islands chain, triggering protests from Vietnam. Vietnam said Jan. 19 it had demanded that China remove an oil rig it has parked in disputed waters.
Delegates also passed on Tuesday a five-year socioeconomic plan that calls for supporting the private sector with "equal access" to credit, land and other resources. Local, private firms have struggled to benefit even as foreign manufacturers reap the export boom.
The socioeconomic plan through 2020 sees the nation targeting as much as 7 percent average annual expansion and gross domestic product per capita at $3,200 to $3,500 by 2020 from the current International Monetary Fund estimate of about $2,170. If Vietnam hits these goals, it will be one of the fastest growing economies in the Asia-Pacific region, according to the IMF.
Before it's here, it's on the Bloomberg Terminal.
LEARN MORE