Conscious Uncoupling by American Adults Bodes Well For Housing Starts
The decline of  "doubling up."
by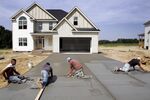 Ask economists to name a sector in the U.S. economy with the most structural and cyclical tailwinds, and you'll likely get this answer: housing.
Residential investment has been a laggard throughout the recovery, though it is typically on the leading edge of economic rebounds—a testament to the 100 years' storm that was the great financial crisis and housing's role in precipitating it.

A resurgence in U.S. housing starts—which are running at about half of their (admittedly unjustifiable and unsustainable) prerecession peak—is more a matter of when, not if.
And according to UBS, a bigger uptick in starts than the Street is anticipating is in the cards for 2016.
The bank surveyed more than 2,000 U.S. adults to get a handle on evolving trends in their decisions to rent, buy, or sell homes in the coming year and over the long haul.
Not only are the improved employment outcomes of "echo boomers" (the children of baby boomers) supportive of a pickup in construction, but the decoupling of adults who currently live together into separate residences, either as renters or owners, offers additional fuel for the market.
Household formation, in other words, will remain robust.

"Demographers believe that the recent growth and composition of the adult population should be associated with around 1.5 million households created per year," writes the UBS team, led by Chief Economist Maury Harris. "That is about where household formation was running in 2015 when the fraction of households that were shared stopped rising and edged down somewhat."
The share of "doubled-up" adults who plan to find or rent a place of their own in the next 12 months was broadly similar to the results of UBS's 2014 survey, which was a harbinger of increased household formation and, in turn, housing starts, Harris writes.
The consensus estimates are for U.S. housing starts to total 1.25 million in 2016, rising to 1.36 million in 2017, according to estimates compiled by Bloomberg, which the economist believes are too conservative in the event that the dialing down of "doubling up" materializes.
"Looking ahead, household formation can be above the around 1.5 million underlying potential level if there is a meaningful drop in the fraction of residences that are shared," Harris concludes.
Before it's here, it's on the Bloomberg Terminal.
LEARN MORE