Top Emerging Fund Sees Stock Opportunities Opening Up
by
Valuation low enough to warrant selective buying, RBC says

Phil Langham's portfolio beat peers in 2015 with 6.8% returns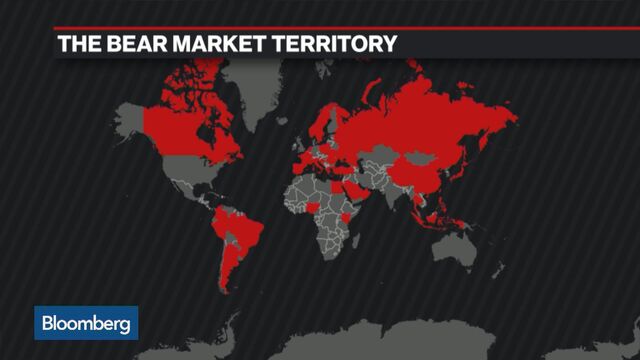 It's too early to turn bullish on emerging markets as a whole, but a key valuation measure has fallen low enough to warrant buying select stocks even in the most troubled markets, according to last year's top money manager.
Phil Langham of RBC Global Asset Management, whose equity fund for developing nations gave the best absolute returns in local-currency terms in 2015 among major peers, said stock prices on average have fallen to around 1.2 times book value, a level that preceded rallies in the past. Langham said the valuation gives him the confidence to add to positions in companies that can protect profits in a slower-growth environment.
"I feel relatively optimistic on a more medium-term view," Langham, who oversees $2 billion, said in an interview in London Jan. 21. "Historically, whenever we have hit valuations of around this level, we have tended to find it to be a strong indicator of strong future performance."

Langham has a granular focus on company fundamentals as opposed to a top-down investment strategy based on macro-economic signals. The approach enabled his Canadian dollar-denominated RBC Emerging Markets Equity Fund to yield 6.8 percent, surpassing returns from comparable funds both on an absolute and risk-adjusted basis.
Beyond Selloff
The fund holds companies like China Mobile Ltd., Brazil's Banco Bradesco SA, Hong Kong-based AIA Group Ltd., Indian drug maker Lupin Ltd. and Malaysian telecommunications company Axiata Group Bhd., all of which he considers capable of generating cash flows in times of economic downturn. Langham said he is maintaining his positions in the shares even after the New Year selloff.
"Our turnover hasn't been that high," he said. "What we've looked to do is to add to those names that we like that have been relatively weakened."
"Pricing power" is a term Langham often uses to describe his favorite companies. It refers to their ability to dictate prices of their products, or at least minimize cuts, because of a commanding market share, product differentiation or consistent demand. For instance, Housing Development Finance Corp., one of Langham's holdings, dominates the Indian mortgage market and is able to charge a higher interest rate than smaller lenders.
"In the current environment, you want to be invested in companies that have pricing power," Langham said. "We put a lot of emphasis on finding companies that have good balance sheets, strong cash flows. One of the things we are particularly wary of in the current environment is any foreign debt."
Distressed Bonds
That concern is shared by investors across asset classes. More than 5 percent of emerging-market corporate Eurobonds trade at distress levels, a sign of weakening sentiment when borrowers are bracing for $115 billion of dollar-note redemptions this year.
The new year hasn't been as kind to Langham's portfolio as 2015 was with the fund losing about 7 percent, data compiled by Bloomberg shows. But the money manager continues to make gradual additions to his investments and says he wants to be ready when the market starts to rebound.
The MSCI Emerging Markets Index, which witnessed what was developing into the worst start to a year ever, rebounded on Friday and is now heading for its biggest two-day rally since August. Analysts surveyed by Bloomberg predict the index will rise 29 percent in the next 12 months.
"Often, there isn't one catalyst," Langham said when asked what conditions would turn the tide for emerging-market stocks. "One day, markets just start going up."
(
Corrects fourth paragraph to remove comparison to MSCI Emerging Markets Index, clarify fund currency.
)
Before it's here, it's on the Bloomberg Terminal.
LEARN MORE