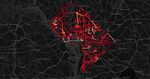 Winter Storm Jonas (aka #Snowzilla) hit the East Coast hard this week, dumping 20 to 40 inches of snow in areas around the region. Cities came to a complete standstill: government and local businesses shut down, public transportation was suspended, and air travel was paralyzed (and is still struggling to recover). Wild deer traipsed across Washington, D.C.'s snow-covered streets, while the humans who ventured out during the blizzard took to skis, sleds, and snowboards.
But now that the storm is over, cities have rushed to reclaim their streets. Several local governments, including D.C., post snow-plow tracking systems online. After crunching District plow activity data, Mapbox's Tom Lee has created this auto-updating map that shows where city snow plows have travelled, and how recently.
Below is a version of the map from around noon on January 25. The lightest yellow lines show the streets where the plow has traveled within the last hour to salt the streets or remove the snow. The deeper and redder the color, the longer it's been since a plow has run through.

Lee's map reveals some interesting trends in D.C.'s snow removal response, he tells Citylab via email:
Diagonal streets across the city are arterials and snow emergency routes. These were plowed early & often.
There's a ton of activity near RFK, presumably because snow is getting dumped there.
The federal city isn't plowed much! Maybe this is because there are feds handling it; or just because the city knows that workers would be home.
Some very fancy and very residential neighborhoods in upper northwest got plowed early
Here's a screenshot Lee provided of this last observation on Twitter, on January 23:  
Next up, Lee is hoping to plot some of the plow activity against census tract median income, ward, distance from the Metro, and other demographic and geographic factors. Meanwhile, check out some of the data he crunched for this D.C. plow map here.