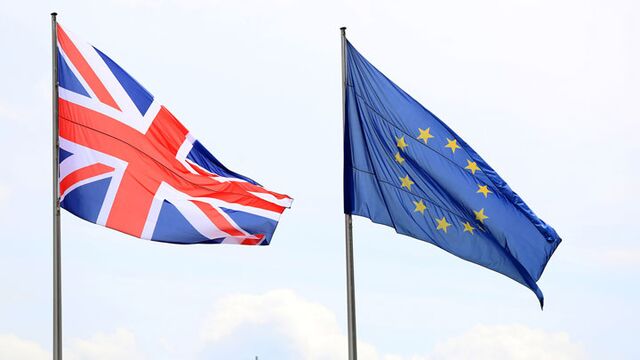 It's a new year and Bank of England officials have been sharing their views on the outlook for the U.K. and the risks. Well, some of the risks.
So far in January, policy makers have spouted more than 20,000 words in three speeches and the minutes of their monthly meeting. They've cited a global slowdown, weak wage growth and a slump in oil as key issues for 2016.

However, their official communications offer no guidance on what economists say is the top risk facing the U.K.: the forthcoming referendum on its membership in the European Union. Lawmakers could try to change that Tuesday -- Governor Mark Carney appears in Parliament to talk about financial-stability risks, and they may well ask him about the elephant in the room.
"It's such a hot issue, I'd be surprised if it didn't come up," said Chris Hare, an economist at Investec in London. "Carney would probably try to continue to tread a fine line on potential implications of "Brexit." You might think they'd want to put some kind of downside skew in to their forecast, but if they really pile into those debates, they'd be criticized. They'll probably try and stay coy."
The chart shows just one mention of `referendum' so far this year -- in the minutes of the January meeting -- and that doesn't offer any clues on the BOE's thinking:
It's certainly on the mind of U.K. economists. They cited the buildup to the vote on EU membership and the potential for Britain to exit as the biggest risks in 2016, according to a Bloomberg News survey. Prime Minister David Cameron has yet to call a date, but it could happen as soon as June.
The absence of "Brexit" analysis from the BOE is getting conspicuous. Last October, Carney skirted the tense political battle with a speech that addressed the U.K.'s relationship with Europe, but offered no final conclusion on its merits. His remarks were accompanied by a 100-page report that assessed the issue but offered no judgment on the impact on the U.K. economy of a British exit.
Carney went a step further last week, insisting that not only has he said nothing on "Brexit," he's not planning to, either. He told the Wall Street Journal:
"We have said all we are going to say about that. We deal with the facts on the ground and the facts on the ground are the status quo. Our job is to make the status quo work as effectively as possible."
So nothing to see here. Nothing at all.
Before it's here, it's on the Bloomberg Terminal.
LEARN MORE