The Juncker Games Offer U.K. a Vision of Endless 'Brexit' Talks
by
Exit scenario finds Britain still making payments to EU

Simulated withdrawal draws Irish anger as `unfriendly act'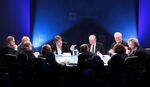 Under television lights at a round table in London, 11 people were rehearsing the European Union's newest reality show, in which Britain attempts to improve its terms of membership by threatening to walk away. Possible titles are "The Brexit Factor" or perhaps "The Juncker Games."
QuickTake Will Britain Leave the EU?
The title the organizers from the Open Europe think-tank had chosen was "EU Wargames." The idea was to see how EU talks might play out, using actual, mostly retired, politicians from key countries. In the morning, they played through the renegotiation. In the afternoon, they argued about exit terms, Britain being assumed to have voted to leave over lunch.
The day opened with a warning from John Hulsman, the moderator, to Britons hoping that their nation's days of such discussions may be numbered. "When you break up with someone, you think you're done talking," he said. "You've really just begun negotiating."
The analogy of divorce would turn out to be an appropriate one. By mid-afternoon, the wargames descended into recriminations and arguments over access.
The British prime minister during the renegotiation session was played by Malcolm Rifkind, who served as foreign secretary from 1995 to 1997, one of the low points of the U.K.'s relationship with the EU. In what must have been a familiar experience, he spent three hours being told by representatives of other nations that his country's demands were both nonsensical and impossible. 
'Muddle Through'
To Hulsman, this simply reflected Europe's clash of cultures. "I've dated many German girls," the president of the eponymous risk consulting firm
sighed during a coffee break. "Anglo-Saxons have the view that we'll muddle through, whereas they want you to explain exactly what it is that you want."
The real negotiations are happening behind closed doors in European capitals and at Brussels summits. If they closely resemble the wargame, much of the time is being devoted to people trying to explain the value of an open immigration policy to Britain.
Every so often, an unreadable bar chart would flash up on the screens, offering statistics that could have proved anything. This may have been an attempt to reflect the current state of the debate in the U.K.
At the end of the session, Rifkind observed that they'd only really completed the opening stage of such talks, where everyone gets their grievances off their chests. "We need to have another three hours. Or six hours. Or nine hours," he said.
New Premier
When the talks resumed after lunch, the scenario had moved to a British exit. In order to properly simulate the likely effects of a vote to leave, the prime minister had changed, with a euro-skeptic former chancellor of the exchequer, Norman Lamont, replacing the internationalist Rifkind.
"Clearly the last session completely failed, because we've had a Brexit," Lamont began, scarcely suppressing his delight.
These talks were rather more passionate than the morning round. Lamont's opening pitch was that Britain was leaving the EU, but it wanted to stay friends. In particular, it wanted to keep its access to the EU's financial-services market. He even conceded that the U.K. would continue paying into the EU budget, in a kind of international alimony. As the cost of Britain's payments to the EU institutions in Brussels is one of the arguments regularly deployed by those pushing for exit, this was perhaps a surprising statement.
It didn't do much to win over his negotiating partners, though.
'Cherry-Picking Approach'
"We respect your decision," said Steffen Kampeter, Germany's former deputy finance minister. "We have to respect something which we do not like, but I don't believe that your cherry-picking approach would be acceptable to our citizens."
In an effort to be diplomatic, Kampeter acknowledged that Lamont, as a member of the British House of Lords, now has an honorific. In a reflection of the deep divisions that afflict Europe, he persistently got it wrong, addressing him throughout as Sir Norman rather than Lord Lamont.
"We are faced with the awkward situation that the one you love is leaving you," said Aart Jan de Geus, a former Dutch employment minister. Other Europeans around the table quickly assured him that the Netherlands was still loved.
'Absolutely Devastating'
It was Ireland that was most upset. "This is an absolutely devastating decision Britain has taken," said John Bruton, a former Irish prime minister. "We regard it as an unfriendly act."
He said Ireland would now want to secure "as much as possible of the financial-services market formerly located in London." Lamont replied dryly that he had been under the impression that Ireland was already trying to achieve this.
Ana Palacio, a former Spanish foreign minister, sounded a dire warning about the likely impact of Britain leaving the EU. "A tsunami would be a very small thing compared to what would happen with a Brexit."
As the participants began their final round of talks, Lamont set out what Britain wanted: "Is it possible to secure an agreement where we have access to financial services but don't have free movement of labor?" he asked.
It fell to former Swedish Trade Minister Ewa Bjoerling to ask the obvious question: If Britain could vote to leave the EU, but still find itself sending money to Brussels and allowing migrants to come to the U.K., what was the argument for leaving for its people?
"Where can they see the difference?" she asked. "What would be the huge positive?"
Before it's here, it's on the Bloomberg Terminal.
LEARN MORE