Singapore's Consumer Prices Extend Slump on Housing, Transport
by
Prices fell less than economist estimates in December

Singapore keeps inflation forecasts, will watch oil prices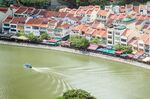 Singapore's consumer prices fell for a 14th straight month, extending the longest streak of declines in almost three decades.
Consumer prices fell 0.6 percent from a year earlier in December, data released in Singapore Monday showed. The median estimate in a Bloomberg News survey was for a 0.7 percent decline. Core inflation, which excludes private transport and accommodation costs, accelerated to 0.3 percent last month.
"External sources of inflation are likely to remain muted, given ample supply buffers in the major commodity markets and weak global demand conditions," the central bank and Ministry of Trade and Industry said in a statement. "On the domestic front, some wage cost pressures remain, but their pass-through to consumer prices will be constrained by the subdued economic growth environment."
The Monetary Authority of Singapore's core inflation gauge is expected to pick up gradually over 2016 as the disinflationary effects of budgetary and other one-off measures ease, according to the statement. Still, lower car prices and an expected increase in the newly-completed housing units will help cap overall prices, the authorities said.
Singapore is keeping its 2016 inflation forecast at -0.5 percent to 0.5 percent, the MAS and trade ministry said. "However, there is significant uncertainty over the outlook for average global oil prices for the year as a whole. MTI and MAS will continue to closely monitor the developments in global oil prices and assess their impact on domestic inflation."
Before it's here, it's on the Bloomberg Terminal.
LEARN MORE