Siemens Raises Outlook as Lower Tax Offsets China, Oil Slump
by and
Engineering firm sees higher earnings per share than expected

Shares gain most since 2009 as investors welcome confidence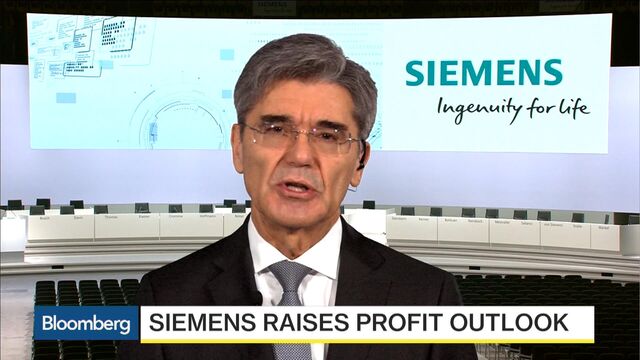 Siemens AG gained the most in almost seven years after unexpectedly raising its full-year profit outlook, as investors welcomed Chief Executive Officer Joe Kaeser's confidence that the German engineering firm can ride out a slowdown in China and drop in oil prices.
"If we hadn't been confident about what we do we would not have raised the forecast at a time which people obviously think to be a bit early," Kaeser said in an interview with Bloomberg TV on Tuesday. "We have a lot of self-help potential" to achieve 2020 growth targets, he said.

This is the first time the Siemens veteran has raised the company's outlook since he was promoted from finance chief in August 2013. The CEO has spent the intervening years re-jigging Siemens's portfolio through a flurry of deals to focus on energy generation and distribution, while cutting more than 13,000 jobs. He has pledged that the company, which also builds trains, would return to growth in 2016 after several years of stagnating earnings, and that the remainder of a 1-billion euro cost reduction program would be completed.
Full-year earnings per share will be between 6 euros and 6.40 euros, higher than a previous forecast of 5.90 euros to 6.20 euros, the Munich-based company said in a statement after the market closed on Monday. In the first quarter, industrial profit rose 9.6 percent to 2 billion euros, beating a 1.9 billion-euro average analyst estimate compiled by Bloomberg. EPS rose 46 percent to 1.89 euros, helped by lower-than-expected tax and pension payments.
Siemens shares gained 7.8 percent, the most since April 2009, to 89.91 euros as of 12:21 p.m. in Frankfurt. That wiped out declines for the calendar year, valuing the company at about 79 billion euros ($85.5 billion).
While the improved industrial profit helped raise EPS in the first quarter, a greater proportion of the increase was due to lower-than-expected tax rates and central costs such as pensions, said Nick Heymann, a New York-based analyst at William Blair and Co. Those advantages may not continue beyond the first quarter, he added.
"You have to conclude that either the company's being exceptionally conservative or they realize that their current results are near the peak benefit of a favorable currency that will diminish as you move through 2016," he said.
Currency effects added four percentage points to revenue growth in the quarter, Siemens said in the statement that was originally scheduled to be published Tuesday ahead of a shareholders' meeting in Munich. Comparable revenue growth will accelerate in subsequent quarters compared with year earlier figures, Kaeser told journalists.

"For investors, the next 12 months are the litmus test for whether the new strategy is really working," Ingo Speich, who manages Union Investment GmbH's investment in Siemens, told fellow shareholders at the annual meeting, adding that Kaeser must introduce further measures to prepare the company for the next decade. "It is questionable whether the oil and gas business is really a growth market with a big future. The end of the fossil fuel era has started."
Profit at the mobility division, which makes trains and rail signaling equipment, jumped 24 percent to 193 million euros, while the energy management business's profit increased 69 percent 183 million euros. Both increases were greater than analysts had forecast.
Siemens expects industrial profit to represent between 10 percent and 11 percent of revenue this fiscal year, compared with 10.1 percent in the last year. The company forecast in November that earnings per share would rise at least 14 percent from the underlying 5.18 euros per share in 2015, which excludes gains from the sale of the hearing aids unit and home appliances stake.
In a separate statement Monday, Siemens said it would acquire software-maker CD-adapco for $970 million. The Melville, New York-based company makes software used to simulate engineering processes such as the workings of combustion engines and has annual revenue of about $200 million and more than 900 employees, it said.
Siemens also sold its remaining stake in Sivantos AG, its former hearing aids business, for 300 million euros to EQT Partners in January. Siemens had retained a stake which it valued at 200 million euros when it sold the company to an EQT-led consortium in Nov. 2014.
Before it's here, it's on the Bloomberg Terminal.
LEARN MORE