Russians Swap Big Macs for Pork Burgers as Local Economy Bites
by
McDonald's takes market share from more expensive restaurants

U.S. chain curbs price growth, offers cheaper meats in Russia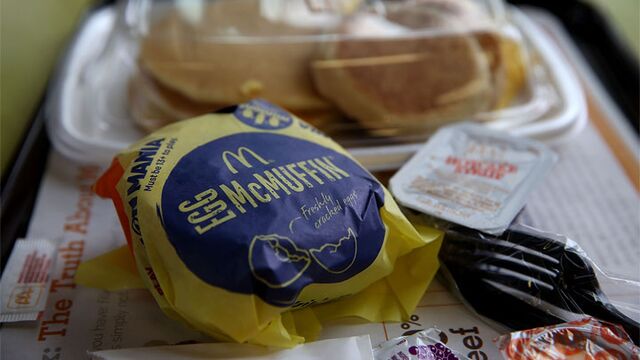 All-day breakfast has fueled a resurgence at the world's biggest fast-food purveyor. In Russia, it's all about double pork burgers and chicken wings.
Amid the worst recession in at least six years, McDonald's Corp. is adding lower-priced meals to its Russian menu to gain less affluent types such as teenagers. It's also capturing more casual diners switching to fast food from restaurants they now struggle to afford, according to country head Khamzat Khasbulatov.
McDonald's on Monday highlighted same-store sales growth in Russia as it posted its best quarterly revenue increase in almost four years. The advance comes against the backdrop of shrinking incomes and a restaurant market which declined 5.8 percent in the first 11 months of last year.

Some customers who used to eat 122-ruble ($1.53) Big Macs are switching to 118-ruble wings and 105-ruble double pork burgers. Lower-end menu items such as breakfasts and cheeseburgers are also selling well, Khasbulatov said. That's helped McDonald's rebound after customer numbers fell in 2014.
McDonald's increased its share of Russia's eating-out market last year, and boosted sales by more than 10 percent, Khasbulatov said, declining to provide specific figures.
The fast-food chain plans to maintain the pace of Russian openings this year, with about 60 restaurants in the pipeline, compared with 59 last year. It has 543 stores in the country, where it had to temporarily close some outlets in 2014 amid inspections by consumer-safety regulators. Previously inflated real-estate prices are declining to more realistic levels, Khasbulatov said.
Before it's here, it's on the Bloomberg Terminal.
LEARN MORE