Record Warmth `Almost Certainly' Due to Humans, Scientists Say
by
Odds of heat records occurring naturally may be 1 in 170,000

195 governments aim to restrict warming by curbing emissions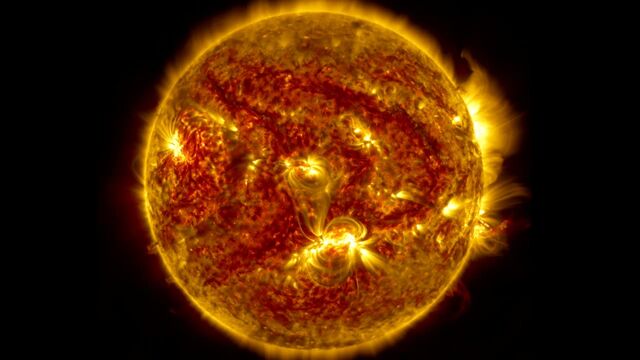 The odds are "vanishingly small" that recent years of record warmth aren't due to human emissions of greenhouse gases, researchers in the U.S. and Germany said, adding to pressure on world governments to cut back on fossil fuel use.
QuickTake Climate Change: A Global Push to Save the Planet
Thirteen of the 15 warmest years ever recorded were registered through 2014, the researchers at the Potsdam Institute for Climate Impact Research, or PIK, said Monday in the journal Nature. The odds of that occurring naturally range from one in 5,000 to one in 170,000, they wrote. Data showing 2015 is the warmest year ever were published after their study was completed, and would make the odds even slimmer, PIK said in an e-mailed statement.

"2015 is again the warmest year on record, and this can hardly be by chance," Stefan Rahmstorf, a co-author of the paper, said in the statement. "Natural climate variations just can't explain the observed recent global heat records, but man-made global warming can."
Scientists are increasingly attributing individual weather events to climate change, having previously been reluctant to do so, signaling only the trend of rising temperatures as evidence of human influence in the climate. 
Envoys from 195 nations agreed in December in Paris to a new deal binding all countries for the first time to cut or limit greenhouse gases. That followed mounting evidence that runaway emissions threaten to make some parts of the world uninhabitable, submerging islands, prolonging droughts and intensifying storms.
Researchers at the University of Oxford and the Royal Netherlands Meteorological Institute saying earlier this month that global warming doubled the chances of December's record U.K. rains occurring. Scientists have also said climate change played a hand in the Californian drought and has lengthened the Australian bush fire season.
The scientists in the latest study performed a statistical analysis combining observed data and computer simulations of the climate to calculate their odds.
"Natural climate variability causes temperatures to wax and wane over a period of several years, rather than varying erratically from one year to the next," Michael Mann, director of the Earth System Science Center at Penn State University said in the statement. 
"That makes it more challenging to accurately assess the chance likelihood of temperature records. Given the recent press interest, it just seemed like it was important to do this right, and address, in a defensible way, the interesting and worthwhile question of how unlikely it is that the recent run of record temperatures might have arisen by chance alone."
Before it's here, it's on the Bloomberg Terminal.
LEARN MORE