Pro-EU Campaign's Rose Says Britain Taking `Huge Risk' With Vote
by
Says advantages of EU membership outweigh exit uncertainty

Stronger in Europe publishes report on benefits of membership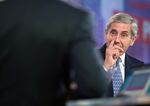 Britons should weigh the "huge risk" of leaving the European Union against the benefits of membership, however imperfect, said Stuart Rose, chairman of Britain Stronger in Europe, the campaign to keep the U.K. in the bloc.
"As soon as we came out of the single market, new tariffs would be set upon us until we negotiate more deals," Rose, the former chairman of Marks & Spencer Plc, said on BBC Radio 4's "Today" program on Monday. People have to consider "the reality of what we've got today against the risk of what we might not have tomorrow."

Britain is preparing for a referendum on its membership of the EU, which could come as early as June should Prime Minister David Cameron reach a deal on his proposed reforms with other EU leaders at the next summit in February. Cameron has promised to hold the vote by the end of 2017. Polls remain inconclusive, with some online surveys suggesting the outcome too close to call and others conducted by phone showing a lead of around 20 percentage points for the campaign to remain in the 28-nation bloc.
Rose made his comments as the campaign group published a report on the value of the EU's single market for Britain's economy and suggested there was a "10-1 benefit" of Britain being in the EU.
"The facts are that some 50 percent of our goods and services are exported to Europe," Rose said.
Asked whether concerns about immigration may sway people to vote against remaining in the EU, Rose said that "immigration isn't going to go away if we're outside the EU; it's a world crisis."
Before it's here, it's on the Bloomberg Terminal.
LEARN MORE