McDonald's Growth Surges After All-Day Breakfast Boosts Sales
by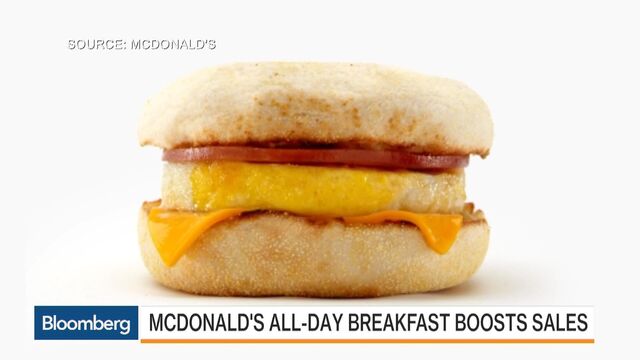 McDonald's Corp., waging a comeback effort under Chief Executive Officer Steve Easterbrook, posted its best quarterly growth in almost four years after a move to serve breakfast all day helped fuel U.S. sales.
Global same-store sales surged 5 percent in the fourth quarter, the Oak Brook, Illinois-based company said in a statement on Monday. Analysts had estimated 3.2 percent. Profit also topped predictions, raising optimism that Easterbrook can pull McDonald's out of its worst slump in more than a decade.

The results validated Easterbrook's move in October to start serving breakfast all day in the U.S. Though the change satisfied a longstanding demand from customers, it created some headaches for franchisees, who had to revamp their kitchens. Easterbrook, who took the CEO job in March, also has focused on speeding up service and improving order accuracy.
"It looks like they're definitely under way with the turnaround," said Bloomberg Intelligence analyst Jennifer Bartashus. "A good chunk of it is the all-day breakfast."
Excluding some items, fourth-quarter earnings amounted to $1.28 a share, compared with a projection of $1.23.
Revenue was $6.34 billion in the period, beating the $6.23 billion estimate.
U.S. same-store sales jumped 5.7 percent, helped in part by mild weather. Analysts had predicted 2.7 percent.


Long-Term Question
Still, it's unclear if selling Egg McMuffins beyond the morning rush will be a long-term benefit, Bartashus said. "The real question is whether that will be a sustained positive influence beyond people just trying it out for the first time."
The shares rose 0.7 percent to $119.20 in New York after the results were released. In 2015, McDonald's gained 26 percent, outpacing the Standard & Poor's 500 Index, which lost 0.7 percent.
Like Starbucks Corp., which reported quarterly results last week, McDonald's cited France as being a weak spot. Business there was hurt by last year's terrorist attacks in Paris. McDonald's saw stronger results in the U.K., Canada and Australia, as well as positive same-store sales in Russia and China.
"We took bold, urgent action in 2015 to reset the business and position McDonald's to deliver sustained profitable growth," Easterbrook said in Monday's statement. "We enter 2016 committed to managing the business for the long term."
Before it's here, it's on the Bloomberg Terminal.
LEARN MORE