Japan Stocks Post First 2016 Back-to-Back Gain on BOJ Optimism
by and
Export figures ratchet up central bank stimulus speculation

BOJ has `run out of excuses,' says Meiji Yasuda's Kodama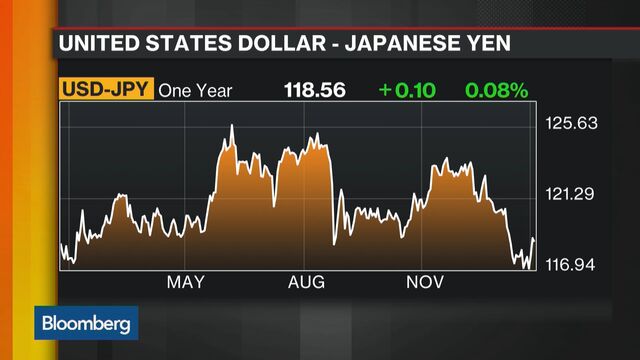 Confidence in central banks' willingness to step in to bolster markets and gains in oil gave Japanese stocks their best two-day performance in more than a year.
Japanese shares joined a global rally to halt losses after the worst start to a year for financial markets sparked by plunging commodities and concern over slowing economic growth. Investors are putting their faith in central banks from Europe to Asia and the U.S. to continue with accommodating policies that have helped keep the bull market in equities going for more than four years.
"Investors expect not only the European Central Bank, but also that the Bank of Japan will expand stimulus," said Shoji Hirakawa, chief equity strategist at Okasan Securities Co. in Tokyo, said by phone. "Japanese markets have dropped and recent leading economic data is not good, which goes a different way from BOJ's expectations," opening the door for more potential easing.
The Topix index increased 1.3 percent to 1,392.63 at the close in Tokyo, extending Friday's 5.6 percent advance for its first back-to-back gain of the year. The two-day rally is the biggest since November 2014. The Nikkei 225 Stock Average increased 0.9 percent to 17,110.91. The yen traded at 118.79 per dollar, near its weakest since the first week of January. Oil extended gains after a two-day surge of 13 percent.
BOJ Meeting
The BOJ will announce results of its meeting on monetary policy on Friday, a week after ECB President Mario Draghi triggered the current market rebound by saying he may ramp up easing as soon as March. BOJ Governor Haruhiko Kuroda tried to play down stimulus speculation during his trip to Davos last week, even as investors see waning inflation expectations, sliding oil prices and a reversal in the yen's declines creating more impetus for him to act.
Japanese trade data released Monday supported those expectations, with exports shrinking 8 percent in December from a year earlier, steeper than estimates for a 7 percent decline and the biggest drop since 2012. Imports lost 18 percent, compared with expectations for a 16.4 percent decline as energy imports fell on cheaper oil prices.

"Looking at export volumes, they continue to be at a very weak level and have shrunk for six straight months from the prior year," said Yuichi Kodama, chief economist at Meiji Yasuda Life Insurance Co. in Tokyo. "The Bank of Japan has run out of excuses. I think they will have to make a move this week."
Japanese shares have undone most of their gains since the BOJ last eased on Oct. 31, 2014. They're still up nearly 40 percent since Kuroda began his unprecedented program of stimulus in April 2013.
Bear Market Rally
Despite Friday's rally, the Topix ended last week with a 2 percent loss. Both the Topix and the Nikkei 225 fell into a bear market on Wednesday as investors retreated from riskier assets on concerns about China's economic slowdown and a rout in oil and other commodities.
While equity markets have calmed, with the Nikkei Stock Average Volatility Index dropping 16 percent over two days, the factors that have rocked financial markets haven't necessarily disappeared. George Magnus, UBS Group AG's senior economic adviser, believes the slump in Chinese stocks has about 14 percent to go, and an eventual rebound won't be vigorous, which could further unsettle Japanese shares.
Food companies led gains among the Topix's 33 industry groups, with Japan Tobacco Inc. surging for a second day after last week requesting government permission to raise prices on some tobacco products. Shares added 7.4 percent Monday, bringing its two-day gain to 14 percent. Mobile ad and game creator CyberAgent Inc. jumped 6.8 percent after Goldman Sachs Group Inc. raised its rating on the shares.
Toshiba Slides
Toshiba Corp. tumbled 5.7 percent after the Nikkei newspaper reported the accounting scandal-plagued company was planning a partial sale of its chipmaking business, a move which Mitsubishi UFJ Morgan Stanley Securities Co. called a "stop-gap" measure that would result in a negative impact on its competitiveness in memory chips. Toshiba denied the Nikkei's report.
Takata Corp. sank 9.8 percent after U.S. regulators said recalls of the company's air bags would expand to millions more vehicles following a 10th death linked to the devices.
E-mini futures on the Standard & Poor's 500 Index were little changed after the underlying measure jumped 2 percent Friday, with energy and raw-material companies leading gains to post their first weekly advance this year. The Federal Reserve also meets this week, with traders betting policy makers will keep the federal funds rate target unchanged.
Before it's here, it's on the Bloomberg Terminal.
LEARN MORE