Japan's Annual Trade Deficit Narrows as Energy Import Costs Fall
by
The value of imports fell in 2015 while exports edged up

China's slowdown, low global growth curb shipments abroad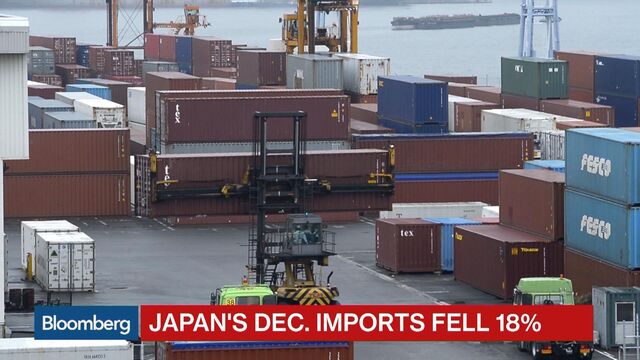 Japan's annual trade deficit narrowed almost 80 percent from a record as energy import costs fell and the weaker yen helped spur a modest increase in exports.
The balance has been negative for 49 of the 58 months since the March 2011 earthquake and tsunami. Fuel imports soared after the disaster devastated a nuclear power plant and prompted Japan to shut down its atomic reactors for extended periods. More recently, the slowdown in China and weakness in the global economy have hurt exports, even as declines in the yen makes Japanese goods more competitive overseas.

The trade balance, which swung back to a surplus of 140.2 billion yen ($1.2 billion) in December, was in deficit for nine months in 2015. Exports declined 8 percent in value last month and imports fell 18 percent. The annual trade deficit was 2.8 trillion yen.
"Exports haven't grown much, but the trade deficit has narrowed because commodity prices are slumping more than expected," Atsushi Takeda, an economist at Itochu Corp. in Tokyo, said Monday after the data was released. "I don't think that's necessarily a good thing. If you think the decline in oil prices has gone too far, imports will increase again and widen the trade deficit eventually."
In December compared with a year earlier, Japan's exports to China fell 8.6 percent and were down 3.4 percent to the U.S. Meanwhile, exports to the EU rose 3.1 percent for the month compared with a year earlier -- with exports of automobiles, auto parts and iron and steel behind the gain.
Economists are watching data releases with particular interest this week, as the Bank of Japan will hold a policy meeting Jan. 28 and 29. Waning inflation expectations, lower oil prices and a reversal in the yen's declines have put pressure on the BOJ to expand its already-record stimulus program.
"The Bank of Japan has run out of excuses. I think they will have to make a move this week," said Yuichi Kodama, chief economist at Meiji Yasuda Life Insurance Co. in Tokyo. which oversaw $299 billion of assets as of March. "If they don't act, the yen will likely make a big move and easily slice through 115 per dollar, sending stocks tumbling. This data has more or less confirmed that they will take action."
Japanese shares rose a second day, with the Topix index increasing 1.7 percent to be on target for its highest close since Jan. 15. The yen, which typically moves at odds with Japanese stocks, was little changed at 118.74 per dollar following a 0.9 percent decline Friday that capped its first weekly drop in three weeks.
Before it's here, it's on the Bloomberg Terminal.
LEARN MORE