Italy's Rescued Banks to Draw `Long List' of Bids, Chairman Says
by
Roberto Nicastro expects `long list' of bids for four banks

Chairman prefers single sale; will consider separate offers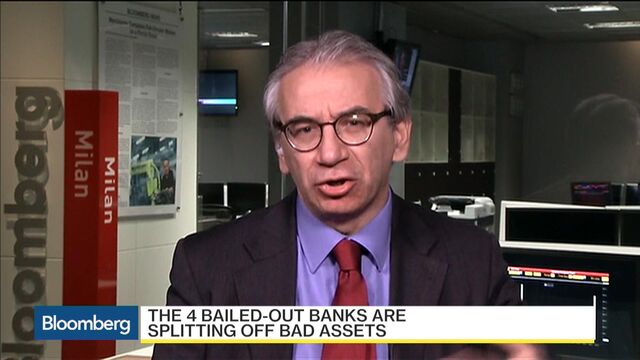 Italy's plan to sell four lenders bailed out in December won't be affected by recent turmoil in the country's finance industry, according to Roberto Nicastro, appointed chairman of the rescued banks to handle the sale.
"I don't think the recent selloff will reduce the interest in these assets," Nicastro said in an interview with Manus Cranny and Anna Edwards on Bloomberg Television Monday. "We are expecting to receive expressions of interest from potential bidders by today. We expect a very long list."

Italy in November approved a 3.6 billion-euro ($3.9 billion) plan to place the four lenders under special administration with the Bank of Italy, clearing the way for their rescue. Italian bank shares plunged last week on concerns that the 201 billion euros of bad debt they hold may weigh on the weakest lenders.
The bad assets of the four troubled banks were put into a single separate unit, with shareholders and subordinated-debt holders incurring some losses. The four "good banks" were the recapitalized and put on sale. The banks are Banca delle Marche SpA, Banca Popolare dell'Etruria e del Lazio SC, Cassa di Risparmio di Ferrara SpA and Cassa di Risparmio della Provincia di Chieti SpA.
Nicastro said the lenders are attracting interest from Italian and international banks and private-equity firms, which are welcome "even as sole investors."
Potential bidders can express their interest by Monday at 6 p.m. to receive documentation on the four lenders. Nicastro said he prefers selling them as one block but would consider separate offers for one or more them as well as strategic equity investments.
Apollo Global Management, Centerbridge Capital Partners and AnaCap Financial Partners are among private-equity firms considering bids, according to people with knowledge of the matter. The sale could fetch more than 1 billion euros, according to the people.
The lenders should be attractive because they're well established in their regions and have now been freed of their non-performing loans, Nicastro said. They also have the potential to improve their revenue and cut costs.
Before it's here, it's on the Bloomberg Terminal.
LEARN MORE