Islamic State Video Shows Paris Attackers, Threatens Hollande
by
17-minute video says French businessmen abroad are targets

Hollande pledges not to waver in fight against terrorism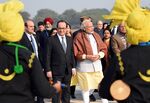 A video apparently released by the Islamic State group showed footage purporting to be of the nine assailants who participated in the Nov. 13 Paris attacks in IS-controlled territory before the assaults, while declaring French businessmen and political leaders targets of the group.
The 17-minute video, released Sunday and posted on militant Islamic websites, was titled: "Kill wherever you find them." In it, a man speaking in French says, "when you are abroad and on business trips, expect to be a target." It also shows images of French President Francois Hollande, Prime Minister Manuel Valls, U.K. Prime Minister David Cameron and U.S. President Barack Obama as if in the crosshairs of a weapon. 
"Nothing will frighten us, no threat will make us doubt in our fight against terrorism," Hollande told reporters in New Delhi on Monday, the second day of a visit to India. "These images are only a disgrace for those who committed these acts," he said of the Nov. 13 assailants shown in the video.
French authorities declined to comment on the video's authenticity.
It also includes footage of the Paris attacks and images of security operations by French special forces during the onslaught. The coordinated assaults, which killed 130 people, were the second round of killings in France following the January 2015 attacks targeting satirical weekly Charlie Hebdo and a Jewish supermarket.
The video shows the nine militants, including four Belgians and three French citizens, said to be responsible for the Nov. 13 assaults. While it was unclear when and where the material was recorded, some of the assailants made statements to the camera.
Before it's here, it's on the Bloomberg Terminal.
LEARN MORE