Here's What the Fed's 'Workhorse' Recession Model Is Telling Us About the U.S. Economy
The year 2016 is not 2008, according to the U.S. yield curve.
by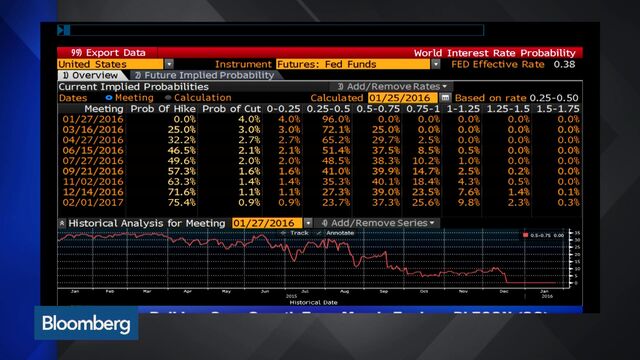 Global equities have started 2016 by falling within points of a bear market, and a number of market participants are now asking whether this is just a blip on the way higher or the start of something worse—such as the onset of an economic downturn in the U.S.
Torsten Sløk, chief international economist at Deutsche Bank, is taking the optimistic route by drawing attention to a certain economic model that currently puts the chance of an imminent contraction in the single digits. The Federal Reserve's so-called probit model looks at the difference between 10-year and three-month U.S. Treasury rates to gauge the probability of a U.S. recession over the next 12 months.
"The Fed has a workhorse recession model where [the] yield curve today is a predictor of future recessions, and running the Fed's probit model with today's values for 10-year and 3-month rates shows that there is currently a 4 percent probability of a recession over the next 12 months," Sløk said in an e-mail.

While the model has been ticking up slightly, it remains far below previous peaks. In fact, there hasn't been more than a 20 percent chance of recession since 2007 and 2008, when the model put the odds at just over 40 percent. The S&P 500 has surged more than 100 percent since bottoming in 2009.
In other recent notes, Sløk has addressed many of the concerns that are currently plaguing the market, including the precipitous fall in the price of oil, a slowdown in China, and the strong U.S. dollar. While he did have a few concerns, he cautioned investors to not get too pessimistic. 
"The bottom line is that the negative shocks that have hit the U.S. economy ... combined with the ongoing correction in the stock market will slow growth over the coming quarters, and this will delay Fed rate hikes. But the situation today is very different from 2008," he said. "Most importantly, in 2008 we worried about issues that had a much more permanent and pervasive impact than what we worry about today."
Before it's here, it's on the Bloomberg Terminal.
LEARN MORE