Ebola Epidemic Found to Expose Weaknesses in U.K. Emergency Plan
By
Britain needs to be `research-ready,' panel of lawmakers says

Hard work and luck no substitute for proper preparations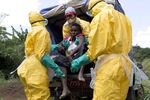 The Ebola epidemic in West Africa exposed weaknesses in the U.K.'s arrangements for dealing with outbreaks of infectious diseases and the government must improve its preparations, a panel of lawmakers said on Monday.
The Scientific Advisory Group for Emergencies, which is intended to channel advice to the government, only met for the first time in October 2014, three months after the Cobra emergency response committee, and there were delays in surveillance of the disease, the House of Commons Science and Technology Committee said in a report published in London.
"The government's emergency response procedures were triggered far too late in the day," Nicola Blackwood, the chairwoman of the all-party panel, said in an e-mailed statement. "A combination of hard work and chance prevented Ebola spreading further than it did, but a future epidemic may be less containable and spread within the U.K. as well as overseas. We must take the opportunity now to ensure that the U.K. is not caught unprepared when the next disease emergency strikes."

There was a failure to conduct trials of drugs and vaccines early enough in the outbreak and there is a need for universities and pharmaceutical companies to be "research-ready" when the next epidemic occurs, the committee said. The government should include research capacity in its emergency planning and negotiate with manufacturers to ensure they can be mobilized quickly to produce medicines, it said.
"The lack of research-readiness resulted in severe problems, from failing to prioritize basic clinical studies on optimal treatments for Ebola patients, to delays in obtaining and sharing vital clinical data. These failings must be urgently addressed," said Blackwood, a member of Prime Minister David Cameron's Conservative Party. "Ebola test kits were developed and trialled, but not deployed, and the initial response was ad hoc and uncoordinated."
The panel also criticized confusion over screening for Ebola at airports, pointing out that the government's stance on checking passengers changed over the course of three days at the height of the outbreak and contradicted guidance from the World Health Organization and Public Health England.