Canada to Sign TPP Trade Deal and Begin Debate on Ratification
Josh Wingrove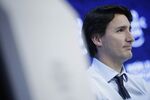 Prime Minister Justin Trudeau's government will put Canada's signature on the Trans-Pacific Partnership trade pact next week, while scheduling public hearings on ratification of a deal it inherited from its predecessor.
Not signing the deal now would "mean withdrawing from TPP altogether, even before Canadians have had an opportunity to fully debate its implications," Trade Minister Chrystia Freeland said in a written statement Monday.
Trudeau has regularly said he is "resolutely pro-trade" but has avoided taking a position on the 12-country TPP, which was agreed to during the election campaign last fall by his predecessor, Conservative Prime Minister Stephen Harper.
Canada's government will now launch a "robust and transparent examination of the TPP" by lawmakers as it reviews the deal, Freeland said, adding that signing was only a "technical step."
Member countries have up to two years to consider ratifying the deal, the minister said. "Just as it is too soon to endorse the TPP, it is also too soon to close the door."
The opposition Conservatives are pressuring Trudeau to follow through with the trade deal signed during Harper's final weeks in power.
"Mr. Trudeau likes to talk about diversifying the economy. There is no better way to diversify the economy than through free trade," Interim Conservative Leader Rona Ambrose told reporters Monday in Ottawa. "The best thing that we can do for this country today and in the future is to continue to have a strong free-trade agenda."
Freeland has held more than 70 meetings and round-table discussions on the pact since becoming minister on Nov. 4, 2015, she said. "It is clear that many feel the TPP presents significant opportunities, while others have concerns," she said.
Canada hasn't yet announced details of its review of the pact.
Before it's here, it's on the Bloomberg Terminal.
LEARN MORE