U.S. Stocks Rally Amid Earnings as Crude Shrugs Off China Slump
by and
S&P 500 rebounds, Dow adds 283 points as Fed meeting starts

American crude briefly tops $32 a barrel, boosting energy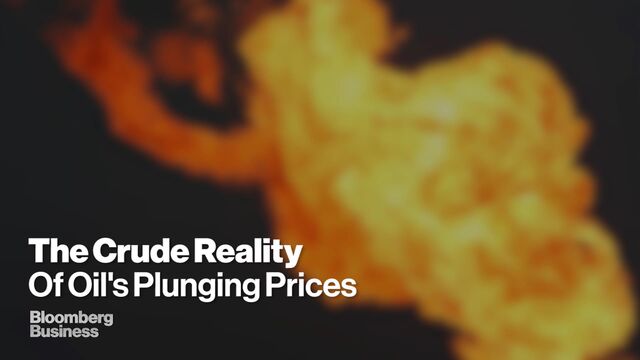 U.S. stocks advanced, with the Dow Jones Industrial Average notching its best day of the year, as investors looked past another rout in Chinese stocks to focus on a rally in crude, corporate earnings and the start of the Federal Reserve's first policy meeting since turmoil gripped financial markets.
The Standard & Poor's 500 Index rebounded from a 1.6 percent slump on Monday as a rise in consumer confidence bolstered optimism in the economy. The Dow average jumped 283 points, the most since Dec. 4, as 3M Co. and Procter & Gamble Co. surged on earnings. Treasuries headed for the best monthly gain in a year on speculation the Fed will signal a patient approach to raising rates. Crude briefly surpassed $32 a barrel, while gold climbed to a two-month.

The Fed is almost universally expected to hold rates steady at its first gathering of the year, though investors will be scouring Wednesday's statement for hints it is backing away from the path of four rate increases in 2016. Signals last week that central banks in Europe and Japan stand ready to boost stimulus to tamp down market volatility fueled a flight to risk assets after equities had the worst two-week start to a year on record.
China's declining currency and equities-market rout has fueled concern government policies aimed at stabilizing the economy would fall short and damage there would spread to the global economy. The roiled markets did little to deter U.S. consumer confidence, and while the stronger dollar dinged corporate results from DuPont Co. to 3M and Procter & Gamble, American companies have so far largely delivered profits that topped estimates.
"We're starting to get earnings that aren't disastrous, so concern that what was going on overseas would roll into U.S. earnings is waning," said Bill Schultz, who oversees $1.2 billion as chief investment officer at McQueen, Ball & Associates Inc. in Bethlehem, Pennsylvania. "We're seeing oil put in a bottom here, which helps. The Fed is probably on hold for a while. All of those things are contributing to a slowdown in the outright selling that's taken place this year."
Stocks
The S&P 500 climbed 1.4 percent at 4 p.m. in New York, paring the U.S. benchmark gauge's monthly decline to 6.9 percent. Apple Inc. is among 23 companies from the index posting results on Tuesday.
The index has lost more than 8 percent since the Fed raised borrowing costs last month. The probability of a rate increase this week has stayed low after the December liftoff, and chances the Fed will raise in March have fallen to lower than one-in-four from even odds at the start of the year.
Proctor & Gamble, 3M and Johnson & Johnson rose at least 2.7 percent after their quarterly profits beat analysts' estimates. Sprint Corp. surged 19 percent after posting a smaller-than-estimated loss. Coach Inc. climbed the most since 2013 after raising its full-year earnings outlook. Chevron Corp. and Transocean Ltd. gained more than 2.9 percent.
The Stoxx Europe 600 Index rose 0.9 percent, as a rebound in commodity and energy producers led the advance, while earnings at Siemens AG and Royal Philips NV further boosted sentiment.
Emerging Markets
The MSCI Emerging Markets Index fell for the first time in three days, sliding 0.9 percent Chinese shares tumbled to a 13-month low on concern outflows will accelerate as the economy slows. Benchmarks in South Korea and the Philippines lost at least 1.2 percent and Brazil's equity-index slid 1.4 percent.
Outflows from China increased to $158.7 billion in December, the second-highest monthly outflow of the year after September's $194.3 billion, according to estimates compiled by Bloomberg Intelligence. The total for the the year soared more than seven times from $134.3 billion in the whole of 2014.
Commodities
WTI crude jumped 3.7 percent to settle at $31.45 a barrel after Monday's 5.8 percent retreat. Government data due out Wednesday is expected to show U.S. inventories rose by 4.1 million barrels last week, according to energy analysts.
Gold surged to a two-month high as more declines in Asian equities boosted demand for a haven and prompted traders to push back bets on higher U.S. interest rates. Futures for April delivery jumped 1.4 percent to $settle at 1,120.60 an ounce in New York, the highest since early November.
Zinc posted its longest rally since the start of September, leading industrial metals higher, on an increase in shipments to China, the world's biggest user.
Bonds
Treasury yields were near the lowest levels this month amid speculation inflation expectations close to record lows may slow the pace of interest-rate increases.
"Policy makers are definitely concerned and will most likely hold off if global financial markets are continuing to fall in value," said Guy LeBas, chief fixed-income strategist at Janney Montgomery Scott LLC in Philadelphia.
The yield on German two-year and five-year government debt fell to all-time lows as bonds advanced across Europe. Yields on Austrian and Dutch two-year securities also dropped to the lowest on record.
Currencies
The Bloomberg Dollar Spot Index fell 0.4 percent, for the first two-day slide in a month as oil's rally bolstered the currencies of commodity-exporting nations. The Canadian dollar and South African rand rose more than 0.9 percent as prices for crude oil, metals and agricultural commodities gained. The currencies advanced amid a broader climb for natural-resource exporters against the U.S. dollar in the past five days.
A Bloomberg index of emerging-market currencies rose 0.5 percent, as the ruble rallied with Mexico's peso.
The Swiss franc declined against the euro, reaching the weakest level since the day the nation's central bank removed the cap on the currency's gains. Analysts cited speculation over the next move by central-bank policy makers.
Before it's here, it's on the Bloomberg Terminal.
LEARN MORE