Argentina's Fix-It Man Is Slowing Down and Investors Are Worried
by
Macri plans to chip away gradually at deficit and inflation

Some analysts would prefer him to continue early shock therapy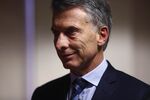 When it comes to fixing Argentina's ailing economy, Mauricio Macri has presented himself as a man in a hurry. In the month since he became president, he has dismantled currency controls and export tariffs, started an overhaul of the discredited statistics bureau and announced plans to resolve the country's decade-old debt dispute within weeks. 
Yet his timeline for fixing a gaping budget deficit, another key obstacle to a more stable and robust economy, is a lot slower, with aides targeting only a minor reduction this year. This go-slow approach is stirring concern among many of the same analysts and investors who lauded his earlier moves.
"I would fast-forward the whole damned lot and do it all in six to nine months - go for shock therapy," said Tim Love, investment director for emerging-market equities at Gam UK Ltd. which manages $130 billion in assets. "They're missing an opportunity and running a bigger risk."
He and others argue that the government can rely on public goodwill for a limited time and must distinguish Argentina from its neighbors in this commodities bust. Emerging-market investors, they say, need to be lured now. The 2017 mid-term elections will likely constrain efforts to cut energy subsidies that are a main component of the deficit.
Some of these jitters have crept into the bond market. After soaring to a price of 115 cents per dollar of face value in early January, Argentina's benchmark bonds due 2033 have since slid below 110 cents. While those losses reflect in large part the global tumble in high-risk assets, they also underscore the sense that investors are anxious to see more from the Macri administration.
Trains and Planes
In a Bloomberg interview at Davos, Macri laid out his ambitions, saying, "We need important companies of the world to finance and construct roads, ports, waterways, energy, trains."
Macri inherited a budget shortfall of 5.8 percent -- 7.1 percent when tax rebates payable in March are included -- Finance Minister Alfonso Prat-Gay said. Inflation was 27 percent last year, according to the Buenos Aires city index.
The government says it wants to cut the shortfall to 0.3 percent and annual inflation to 5 percent by the time Macri's term ends in 2019. But for 2016, the target is a mere 1 percentage point reduction of the fiscal gap and slowing inflation to 20-25 percent.
"We were convinced that the only way to lift currency controls without drama was with a shock therapy strategy," Prat-Gay said. "In other fields such as lowering inflation and putting the fiscal accounts in order, the strategy we believe is viable is more gradual."
Central Bank President Federico Sturzenegger was quoted by La Nacion as saying that the bank will, to some extent, continue the previous government's policy of transferring funds to the Treasury. The bank moved 78 billion pesos ($5.8 billion) to the Treasury last year to help fund the deficit, according to Prat-Gay.
$3 Electricity Bills
To close the deficit, Macri will need to hike Argentines' electricity bills which have been heavily subsidized since 2001. Some households, many of them middle class, pay as little as $3 per month for electricity.
According to a report by the Argentine Budget Association and the country's Energy Institute, nearly 3 percent of GDP has been devoted to subsidizing domestic energy consumption.
Some analysts said they understood the more cautious approach in a country where protests and strikes are prevalent.
"There are two benefits from a more gradual fiscal adjustment: on the one hand you don't affect growth so much and on the other by not cutting subsidies so much prices won't rise as much and therefore your inflation targets are more achievable," Andres Borenstein, an analyst for BTG Pactual in Buenos Aires, said.
Credibility
The government hasn't outlined its plan to accelerate the reduction of the deficit to 1.5 percentage points per year from 2017. It's likely that it's betting on an increase in revenue from a pick-up in economic growth, said Mauro Roca, a senior economist at Goldman Sachs & Co. in New York.
"The risk from starting slowly is that due to political resistance - which isn't going to diminish and may well increase - the projection of an acceleration in the deficit reduction doesn't materialize from 2017," Roca said by phone. "That will obviously affect credibility on other policies."
The government will begin closing the gap by cutting subsidies by 1.5 percent of GDP and reducing spending by 0.8 percent this year, Prat-Gay said. The new government has moved to improve efficiency by removing what it calls "gnocchis" - government supporters who were paid by a state institution without ever turning up for work.
But so far, most of Macri's moves have been in the opposite direction. He has pledged to double the threshold at which Argentines begin to pay tax to 30,000 pesos ($2,230) a month and said he will raise income tax brackets that haven't been adjusted in a dozen years, despite rampant inflation.
Vulnerable Families
Removing export tariffs on most agricultural products and reducing the levy on soybean exports to 30 percent have already boosted the country's diminished foreign reserves. But it's also another fiscal gap to be filled.
The government will need to find an additional 100 billion pesos ($7.4 billion) in lost revenue due to the tax cuts and some additional benefits it has granted to vulnerable families, Prat-Gay said.
It is banking on access to cheaper credit from capital markets to fund part of the deficit, said Goldman's Roca. He calculates if the government reduces the primary deficit to virtually zero, the overall deficit will still be about 2.5 percent.
"The interest and appetite for Argentina will depend on the advances on the reforms, and credibility will be crucial," Roca said. "That appetite is not unlimited."
Before it's here, it's on the Bloomberg Terminal.
LEARN MORE