Airbus Jets, Fiat Cars on Iran Wish List as Rouhani Tours EU
by and
President may sign aircraft accord including A380 superjumbos

Tour takes in Italian, French leaders -- and the Pope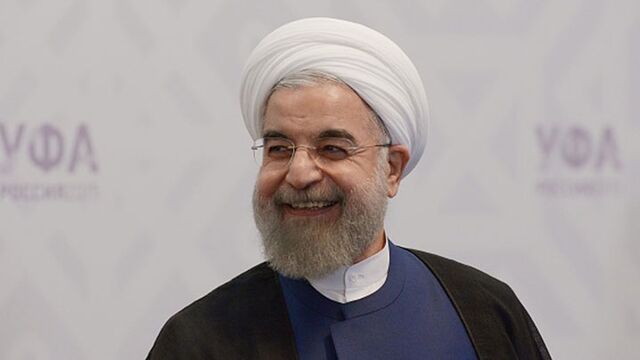 Iranian President Hassan Rouhani arrived in Italy on Monday for the first stop of a European tour that's expected to see him sign contracts to purchase Airbus Group SE jetliners and explore manufacturing partnerships with Fiat Chrysler Automobiles NV, PSA Peugeot Citroen and Renault SA.
Rouhani may sign deals valued at about 17 billion euros ($18.4 billion) in Italy, according to an official there who asked not to be identified because the information isn't public. Iranian state-run media reported a possible $2 billion steel accord, and Fiat Chrysler Chief Executive Officer Sergio Marchionne will attend a ceremonial dinner with the president in Rome.

In France, Rouhani is likely to complete an accord for 114 Airbus planes to upgrade Iran's aging fleet, possibly including a headline-grabbing order for the flagship A380 superjumbo model, and may sign deals with Peugeot and Renault, according to Iranian reports.
Iran is looking to reap the benefits of its nuclear deal with world powers in July, which paved the way for the lifting of economic sanctions this month as the Islamic republic seeks to revive economic growth and lower unemployment. The removal of trade bars may trigger at least $50 billion a year in foreign investment, the country's central bank governor said in an interview last week.
'Red Carpet'
This week's trip is Rouhani's first to the European Union since his election in 2013 on pledges to end sanctions and rebuild links with the rest of the world.
"We should take advantage of the post-sanctions climate to develop the country and create jobs," the president said before leaving for Italy, according to the Fars news agency. Shargh, Iran's most-popular reformist newspaper, ran the front-page headline: "A red carpet beneath Iran's feet."
Rouhani is in Rome through Wednesday. He'll hold talks with Prime Minister Matteo Renzi, and the pair will tour the Capitoline Museums, before the dinner Monday evening with business leaders at Terrazza Caffarelli, overlooking the Eternal City. Tuesday features a meeting with Pope Francis in the Vatican.
Among the deals he's expected to sign is a 5 billion-euro contract with Milan-based oil-services company Saipem SpA to develop pipelines and a 2 billion-euro agreement for Danieli & C. Officine Meccaniche, a manufacturer of blast furnaces and steel-rolling mills, according to the Italian official. Logistics group Gavio SpA and shipbuilder Fincantieri SpA may also win work, he said.
Vans, Buses
At Fiat Chrysler, Marchionne has said he sees opportunities in Iran once things stabilize. The Italian-American company has held talks about building light-commercial vehicles and buses there, the state-run Islamic Republic News Agency reported Nov. 29, citing Mohammad Reza Nematzadeh, minister for industry, mines and trade. An outline deal on manufacturing in Iran failed to get off the ground in 2005, and Fiat halted sales in the country in 2012.
Eni Chief
Eni SpA head Claudio Descalzi is also scheduled to attend the dinner, according to the official. Italy's biggest oil producer could start doing business again in Iran this year, the CEO said in December.
Rouhani travels to Paris on Wednesday for a meeting with President Francois Hollande. A deal for the A380 -- flagged as likely by Iran Air Chairman Farhad Parvaresh in an interview -- would come as a major boost for Airbus as it struggles to sell the world's largest passenger model.
An order would be part of a wider deal including the A320 single-aisle aircraft family, as well as used A340 wide-bodies. The first of the 114 aircraft intended for Iran Air might be delivered by March 21, the Mehr news agency has reported, citing Minister of Roads and Urban Development Abbas Akhoundi.
Iran's plans to extend Tehran's main Imam Khomeini Airport are likely to have a total cost of $25 billion, Gholam-Reza Shirazian, director of the hub's development plan, said Monday in an interview at CAPA aviation conference in the city. Talks are underway with possible partners, including a French company on the cargo side, he said.
Iran Khodro Co., one of the country's largest carmakers, reached a preliminary agreement for a 500 million-euro joint venture with PSA Peugeot Citroen, Tasnim reported Sunday, citing an industry official it didn't identify. The French automaker opened a dealership in Tehran on Monday selling models from the upscale DS brand, it said in a statement.
Before it's here, it's on the Bloomberg Terminal.
LEARN MORE