What to Look for in Apple Earnings
by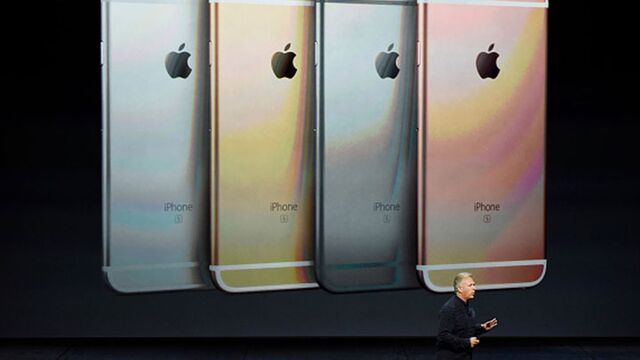 Apple Inc.'s shares have taken a beating, falling 11 percent since the last earnings report in October on concerns that iPhone sales may have suddenly dropped off.
Results due Tuesday will give investors a closer look at whether that slump was justified—or a long-awaited signal that the stock is poised for a rally.
For a company that boosted sales 28 percent to $233.7 billion in its latest fiscal year, the stock slide is perplexing. While that might make sense given the drop in global equity prices (on concerns that falling oil prices and a weak Chinese economy will put the brakes on global economic growth), there are some factors fueling Apple angst.
Apple is becoming more reliant on the iPhone for growth, even though the lineup was expanded last year to include the Apple Watch, a new Apple TV and Apple Music. Yet the iPhone is still by far the company's most important product and biggest money maker. The smartphone accounted for 66 percent of Apple's revenue last year, up from 50 percent three years ago.

Given Apple's dependence on the iPhone, any hint that sales might slow—especially in China—spooks investors.
There have been some signs suggesting that iPhone sales may be slowing. According to several analysts, Apple has cut orders to its suppliers for phone components, indicating the Cupertino, California-based company may not sell as many handsets in early 2016 as originally anticipated. Cirrus Logic Inc., a maker of audio components that gets more than 60 percent of its revenue from Apple, warned shareholders on Jan. 7 that its results will fall short of forecasts because of weak demand for mobile products.

Adding to the concern is a broader global slowdown. Samsung Electronics Co., the world's largest maker of smartphones and a manufacturer of displays and memory chips that go in other companies' devices, reported earnings on Jan. 8 that fell short of analysts' projections. Meanwhile, researcher IDC predicted in December that 2016 smartphone growth will dip below 10 percent—the first time ever below that threshold. By 2019, shipments are projected to decelerate further, with sales seen rising just 4.7 percent in 2019. IPhone sales will also slow, according to IDC.

The question for Apple stakeholders is whether the iPhone production drop is any different from years past. Apple's sales always fall precipitously after the holiday shopping quarter as customers begin waiting for new products, which are typically released around September.

That puts the focus squarely on Apple's outlook for the first three months of 2016. Analysts are projecting, on average, a sales decline of 4 percent to $55.7 billion, according to data compiled by Bloomberg. A steeper drop will fuel more concern. For Apple's fiscal first quarter, which ended in December, analysts predict profit $3.23 a share and revenue of $76.6 billion.
Still, some have said the dip in Apple's stock is a buying opportunity. Gene Munster, an analyst at Piper Jaffray Cos., said the shares could rise more than 50 percent heading into the release of the iPhone 7 in September. The 43 analysts tracked by Bloomberg are predicting, on average, for Apple to be at $141 within 12 months from the current $100.
That probably guarantees—either way—a wild ride.
Before it's here, it's on the Bloomberg Terminal.
LEARN MORE