Vietnam Signals Leadership Shift as Premier's Prospects Fade
by
Reform-minded Dung fails to get party chief nod, report says

Dung now seeking post on powerful party central committee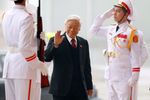 Vietnam's exiting prime minister is struggling in his bid to become Communist Party chief, raising doubts about how much the new leadership will advance his efforts to reform bloated state-owned enterprises and open the country to foreign investors.
Party leaders have nominated General Secretary Nguyen Phu Trong to another term, according to state-controlled media, potentially ending the candidacy of Prime Minister Nguyen Tan Dung as the party plots the country's course for the next five years. Dung has served the maximum two terms allowed and was looking to shift to general secretary, one of the most influential posts in Vietnam.
The initial nominations point to behind-closed-doors jostling among factions and personalities within the one-party system and signal a possible move away from economic reforms pursued by Dung. The prime minister has also criticized China -- the country's Communist neighbor and biggest trading partner -- over territorial disputes.
Dung, known as a fierce political fighter, still has an outside chance to land support for his drive to become party general secretary, said Nguyen Manh Hung, professor emeritus at George Mason University in Virginia.
"There will be intense lobbying in the next few days," he said. "If Mr. Dung succeeded, it would be unprecedented. It would be revolutionary. I don't want to make any predictions."
In a sign the party infighting continues, delegates have now moved to nominate Dung to the powerful central committee, VnExpress news website reported Sunday night. That suggests he is maneuvering for a last-ditch attempt to regain power at the congress that ends Jan. 28. Representatives of Dung's office were unavailable for comment Sunday.
Dung faces a number of hurdles to gain the nomination for general secretary, including garnering support from the new central committee, Hung said. Should Trong fail to win a majority support in the party congress, the central committee or the congress would nominate another candidate, which could be a compromise pick or Dung, he said.
Aggressive Politics
The prime minister's aggressive politics have turned many party members against him, said Alexander Vuving, a security analyst at the Asia-Pacific Center for Security Studies in Hawaii.
"Dung was so ambitious, so aggressive," he said. "He made almost everyone his enemy."
Along with a new slate of leaders, the party congress also sets the tone for economic reform and growth. An online draft of the five-year economic plan calls for supporting the private sector with "equal access" to credit, land and other resources. Dung has pushed to accelerate the privatization of state-owned companies, which often get preferential access to loans and land. The nation is set to be one of the fastest-growing economies in the world, yet local, private firms have struggled to benefit while foreign manufacturers reap the export boom.
Five-Year Plan
The 2016-2020 economic blueprint also calls for accelerating the privatization of state enterprises, resolving bad debt and improving the nation's competitiveness. Several leaders, including Trong, have stressed that Vietnam is at risk of falling behind regional peers.
During his time in office Dung has pushed to open the economy to foreign investors and competitors while prodding state-owned enterprises to privatize and sell non-core businesses. He has led Vietnam into the U.S.-led Trans-Pacific Partnership trade pact, which spans a raft of Pacific rim nations but does not include China.
Vietnam in December specified 18 industries where foreign investment is allowed, including property, transport, construction and manufacturing. A June decree said foreigners could for the first time buy majority stakes in some publicly-listed companies including brokerages. The new leadership will influence how the investment regulations are implemented because details of the changes have yet to be announced.
New President
A newly-elected party central committee will officially choose the next general secretary in secret near the end of this month's congress. Officials aligned with the new general secretary will be voted on by parliament in May or June for posts including prime minister and cabinet members.
Current Deputy Prime Minister Nguyen Xuan Phuc has been nominated by the central committee to be the next prime minister, the state-controlled VietnamNet news website reported Sunday, citing Vu Trong Kim, vice chairman of the central committee of Vietnam's Fatherland Front.
Minister of Public Security Tran Dai Quang has been nominated for president and National Assembly vice chairman Nguyen Thi Kim Ngan is set to lead the assembly, according to VietnamNet.
A government influenced by Trong would probably be more cautious about implementing major economic policy changes, said Zachary Abuza, a professor at the National War College in Washington, DC.
'More Cautious'
"They are not going to reverse reforms but they are not going to speed them up either," Abuza said. "They will be more cautious about the pace and scope of economic reforms, privatization, implementing all of the TPP provisions and protocols."
Still, whoever ends up leading Vietnam is unlikely to dramatically change its foreign policy despite tensions with China over the disputed South China Sea, Vuving said.
Frictions rose this month after Chinese planes landed on a new airstrip on reclaimed islands in the Spratly chain, triggering protests from Vietnam. Vietnam said Jan. 19 it had demanded that China remove an oil rig it has built in disputed waters.
Phuc, who has studied in the U.S., is part of a new crop of leaders who are "very different from the past generation that came out of the jungles" after the war with the U.S., said Vuving.
"Judging from his public statements, he has a reformist's attitude," he said. "Now with TPP, they realize they have no way back. They have to reform state-owned companies. I am confident the new generation of Vietnamese leaders will lead more to the West. Vietnam will continue to pivot to the West."
Before it's here, it's on the Bloomberg Terminal.
LEARN MORE