Portuguese Consensus Candidate Sousa Wins Presidential Election
by
New head of state elected after taking more than half of vote

Sousa calls for compromise between Portual's main parties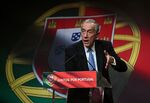 Marcelo Rebelo de Sousa, a former Social Democrat leader preaching compromise between the country's parties, will become Portugal's 20th president after winning more than 50 percent of a first-round vote Sunday, avoiding a runoff.
Rebelo de Sousa, 67, a law professor and television commentator, took 52 percent of the vote with 99 percent of the country's voting districts reporting, according to the government's election results website. Antonio Sampaio da Novoa, who is backed by some Socialists, placed second among the 10 candidates with 23 percent.
In Portugal, the prime minister is responsible for policy decisions and the president is mainly a figurehead, though he does have the authority to appoint the premier and dissolve parliament. That role became critical during the brinkmanship that followed last October's general election as Rebelo de Sousa's Social Democrat colleagues were ousted by a Socialist-led alliance.
Prime Minister Antonio Costa's November maneuver raised hackles among Social Democrats for breaching a convention of the two main moderate parties accepting that whichever won the most votes should govern. Rebelo de Sousa appealed to consensus politics in his victory speech on Sunday night.
"The culture of compromise and consensus has been lost a bit," Rebelo de Sousa told supporters in Lisbon. "Every day we have to remake the culture of compromise to serve the national interest."
Minority Government
Costa's minority Socialist government plans to reverse state salary cuts and bolster family incomes, easing austerity measures faster than the previous Social Democrat-led administration proposed. Costa says he can do that and keep the budget deficit within the European Union limit of 3 percent of gross domestic product through 2019.
"Rebelo de Sousa is a moderate figure, and he has been very wary of criticizing the minority government of Socialist Party leader Antonio Costa," Antonio Barroso, a political analyst at Teneo Intelligence in London, said in a note on Friday. "It's unlikely that the upcoming cohabitation of a center-right president and a left-wing administration will lead to significant conflict between both powers."
Costa has said his minority administration will be propped up in parliament by the Left Bloc, Communists and Greens, which haven't followed the Socialists in backing EU budget rules in the past. The government presented its 2016 budget plan on Thursday, setting a narrower budget-deficit target and forecasting that growth will accelerate.
Outgoing President Anibal Cavaco Silva, a Social Democrat like Rebelo de Sousa, served two straight five-year terms as president after winning more than 50 percent of the vote in the first round of both elections.
Before it's here, it's on the Bloomberg Terminal.
LEARN MORE