Petrus '82 May Fetch $3,500 a Bottle at Sotheby's London Auction
by
Margaux, Haut Brion From 1986 Vintage Also Feature in Sale

Mouton 1989 Six-Liter Imperial May Sell for More Than $3,000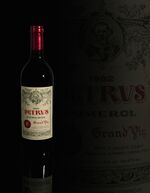 Six bottles of 1982 Petrus from the Pomerol region of Bordeaux may fetch as much as 15,000 pounds ($21,400), or more than $3,500 a bottle, when they go on sale at Sotheby's in London this week, according to an e-mailed statement from the auction house.
Ten bottles of Chateau Latour from the same year are also for sale with an upper estimate of 10,000 pounds, headlining a sale of mature Bordeaux that includes wines from other notable years including 1986, 1989 and 1990. A 12-bottle case of Chateau Margaux '86 carries an upper estimate of 4,200 pounds while a similar quantity of Haut Brion '86 is priced at up to 3,400 pounds.
The sale comes as the fine wine market is showing signs of stabilizing after a 40 percent plunge in prices of many Bordeaux first growths since the peak of a bull run in mid-2011. The London-based Liv-ex Fine Wine 50 Index of top Bordeaux fell just 0.7 percent last year, bottoming out after five straight annual declines, as wines from the region competed for attention from investors and collectors with other areas including Burgundy and Italy.
"While fine wine certainly has the potential to rise rapidly in value, it was its more defensive qualities which came to the fore in 2015," The Wine Investment Fund said in a market report in London this month. With inflation concerns starting to play a greater role in world equity and bond markets again, "wine, as a physical asset whose value is not eroded by inflation, should benefit," it said.
Other wines in the sale include 12 bottles of Chateau Mouton Rothschild 1998, estimated to fetch as much as 3,200 pounds at the Jan. 27 sale, and a six-liter imperial of Mouton '89, which may sell for 2,200 pounds, according to Sotheby's.

Two six-bottle lots of Petrus 1998 are estimated to fetch up to 13,000 pounds each while another two six-bottle lots of the same grower's 2005 vintage are priced at as much as 11,000 pounds. Two bottles of Petrus '90 may sell for as much as 4,800 pounds. Six magnums of Petrus 1989 sold for 30,550 pounds at a Sotheby's wine auction in London in December.
Before it's here, it's on the Bloomberg Terminal.
LEARN MORE