Kuroda in Davos Gives No Hint of BOJ Appetite to Expand Stimulus
Francine Lacqua and Toru Fujioka
Governor has a history of using surprise to his advantage

Markets to be on tenterhooks until policy decision in Tokyo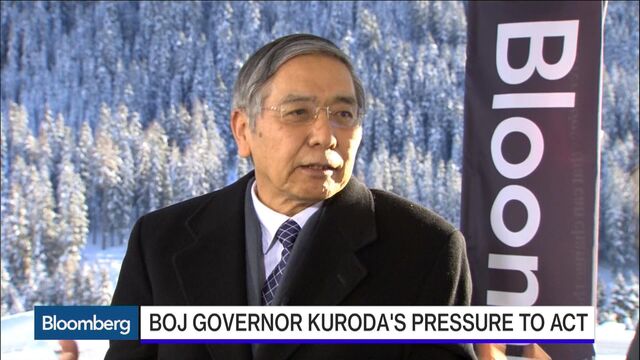 Bank of Japan Governor Haruhiko Kuroda has preserved his capacity to surprise the market when his policy board meets this week after using his trip to Davos to play down the impact of recent turbulence on Japan's economy.
"At this stage, we don't think the current market situation has been affecting corporate behavior unduly," he said in an interview with Bloomberg in the Swiss mountain resort. "But, as I said, the market is the market, and markets could affect the real economy -- so we carefully watch."
Kuroda, 71, was speaking ahead of what could be an agonizing decision about whether to add to the central bank's record asset-purchase program. Waning inflation expectations, sliding oil prices and a reversal in the yen's declines have put pressure on the BOJ to do more. Even so, some analysts question how much impact a move would have now and others suggest Kuroda has only one more shot in his monetary arsenal and say he should save it.
Outlook Matters
"Kuroda is trying hard to extinguish speculation for easing so that he can make the most of it," said Yasuhide Yajima, the chief Japan economist at NLI Research Institute, who forecasts action at the end of the meeting on Jan. 29. "Make no mistake: He gave optimistic views even a few days before bolstering stimulus in 2014. What matters is the outlook, not the current situation, and the prospects for inflation in Japan worsened dramatically."
Kyohei Morita of Barclays Plc disagrees. Kuroda was speaking frankly when said the central bank needs more time to examine the potential impact of the market rout, according to Morita. The Tokyo-based economist said that unless the yen strengthens beyond 115 against the dollar, further stimulus is unlikely this week. It weakened 0.9 percent to 118.78 on Friday.
"The next meeting is definitely a close call but if Kuroda is trying to produce a surprise, that will cost him tremendously in a long term because investors will pay little attention to what he says."
In a note over the weekend after Kuroda's interview on Friday, Goldman Sachs Group Inc. said there is a chance of increased stimulus on Jan. 29 but that the most likely scenario is in April.
With China dominating the focus of global financial markets, Kuroda offered what he said was a "relatively optimistic" view about Japan's larger neighbor.
China View
China doesn't face the risk of a hard landing and there is no sort of global crisis like the post-Lehman Brothers meltdown, according to Kuroda.
Speaking later during a panel discussion, he also said China should impose capital controls to defend the yuan rather than keep burning through currency reserves.
If market ructions in Japan and globally are prolonged, that would affect the economy, according to Kuroda. He reiterated during his interview with Bloomberg that there are many ways to strengthen the BOJ's easing program if needed.
Tomo Kinoshita, chief economist of Nomura Securities Co., said the economic situation seems to be okay. "The question is whether the recent turmoil in the market will affect corporate behavior or consumer behavior -- that's the very uncertain point," said Kinoshita. "If the BOJ feels that this downside risk is likely to intensify, they could make a preemptive move."
Key Data
Key data on Japan's economy due for release before the Jan. 29 policy announcement may influence the outcome of the decision. The industrial output report that same morning may be particularly important, along with a survey of production plans for January, said Kinoshita, who currently predicts the BOJ will hold off on added stimulus until April.
"At this stage, a virtuous cycle of income to spending by the corporate sector as well as the household sector is maintained -- fairly robust," Kuroda said. "We are not so much concerned about the real economy."
Failing to act could have a cost: Japanese stocks jumped on Friday in part amid hopes of expanded stimulus, creating the potential for disappointment. Some fellow Davos participants gave signals of support for markets, with the vice president of China saying his government will "look after" stock investors, and the European Central Bank chief signaled before his arrival that he may ramp up easing as soon as March.
Excluding the impact of oil prices, Kuroda said that inflation is running around 1 percent to 1.5 percent in Japan, the U.S. and Europe. Japan and others maintain a 2 percent inflation target. "Of course, a prolonged oil-price decline or prolonged financial turmoil could affect even future inflation expectations in Japan -- at this stage, not much."
Yen Danger
A rising yen risks undoing one of the most important achievements of Kuroda and the government's Abenomics program: a weaker yen that buoys Japanese exporters. Profits at many large manufacturers have surged with the yen's near-30 percent drop since Prime Minister Shinzo Abe came to office three years ago.
While Japanese stocks rose Friday, the Topix index is still down almost 19 percent since a peak last August. The yen advanced 1.5 percent against the dollar this year, while almost every other major currency fell.
Inflation Target

Kuroda has held off bolstering stimulus even as the bank repeatedly postponed the timing of reaching its 2 percent inflation target, making it difficult to predict how much he could be swayed by the present situation. People familiar with talks inside the bank told Bloomberg last week that officials are considering postponing for a third time in a year the time frame for reaching the inflation goal. The most recent schedule is for around the six months through March 2017.
The officials are also increasingly expressing disappointment at subdued annual wage talks as labor unions seek smaller gains than a year ago, according to the people.
"If necessary to achieve the 2 percent inflation target, particularly if the underlying inflation trend is seriously affected, then we can expand or further strengthen QQE in many ways," Kuroda said, referring to his quantitative and qualitative easing program. "There are many ways to further strengthen and expand QQE even more creatively."
Kuroda noted that there are many different types of assets available in Japan, while government bonds are the biggest and most liquid market. He said that the BOJ currently holds about one third of that market, still leaving two thirds untouched.
Marathon Race
"The BOJ is presently running a marathon with no goal in sight," Kentaro Koyama, a Japan economist at Deutsche Bank AG, wrote in a report on Jan. 19. "It also faces the hurdle of a relentless downturn in oil prices. If it fails to pace itself properly, it could fall out of the race long before the end. We suspect that the BOJ's strategy will be to conserve its energy until needed for the final burst.''
Kuroda is a veteran communicator with financial markets, having served as the Finance Ministry's top official on the yen a decade and a half ago, when it would sometimes intervene in the currency market. At the central bank, he has also shown a tendency to surprise investors and BOJ watchers -- in the scale of his original asset-purchase program in April 2013, and in an unexpected expansion of the initiative in October 2014.
"Surprise is a very important element of the BOJ's policy" under Kuroda, said Kinoshita.
Before it's here, it's on the Bloomberg Terminal.
LEARN MORE