John Stewart Bryan, Last Family CEO at Media General, Dies at 77
Nancy Moran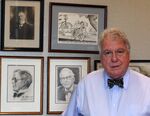 John Stewart Bryan III, the last of an American newspaper-publishing family to serve as head of Media General Inc., and who oversaw its move into broadcasting, has died. He was 77.
He died on Jan. 23 at Bon Secours St. Mary's Hospital in Richmond, Virginia, after sustaining neck injuries in a Jan. 15 fall, the company said in a statement Sunday.
The death of Bryan, who was still chairman, comes as the Richmond-based company is in the midst of a takeover fight involving Nexstar Broadcasting Group Inc. and Meredith Corp. Nexstar offered this month to acquire Media General for $17.66 a share, while Media General has been negotiating with Meredith to call off their $2.4 billion merger deal.
Bryan owned less than 1 percent of Media General's shares at the time of his death, according to data compiled by Bloomberg.
During a 50-year career, Bryan was a reporter and publisher of four local newspapers: the Richmond-Times Dispatch and Richmond News Leader, and the Tampa Tribune and Tampa Times in Florida. He became chairman, president and chief executive officer of Media General in 1990.
The family business began in 1850 with the founding of the Richmond Dispatch, predecessor to the Richmond Times-Dispatch. The newspaper publisher branched into broadcasting in 1955. In 1978, Bryan succeeded his father as publisher of the Richmond Times-Dispatch and The News Leader. He relinquished his role as publisher of the Times-Dispatch and CEO of Media General in 2005, while staying on as chairman.
Faced with a decline in advertising sales and circulation, in 2012 Media General exited newspapers with the sale of all but one of those businesses to billionaire Warren Buffett's Berkshire Hathaway Inc. The Tampa Tribune was sold separately. Media General currently operates or services 71 television stations in 48 markets.
Bryan was born on May 4, 1938, in Richmond. After earning a bachelor's degree in philosophy in 1960 from the University of Virginia, he began active duty as an infantry officer in the U.S. Marine Corps. He then attended law school at the University of Virginia from 1962 to 1963. He joined Media General's board in 1974 and was made vice chairman and executive vice president in 1985.
His is survived by his wife, the former Lisa-Margaret Stevenson, daughters Elizabeth and Anna, and five grandchildren.
Before it's here, it's on the Bloomberg Terminal.
LEARN MORE