France Signals Rafale, Nuclear Progress as Hollande Visits India
by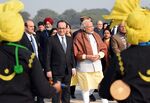 France signaled a state-to-state accord with India could be signed on Monday over a deal for 36 Dassault Aviation SA Rafale fighter jets, and that a six-year-old plan to build nuclear reactors in the South Asian nation would see some progress.
President Francois Hollande said he was "rather optimistic" an agreement over the warplanes would be signed tomorrow as he began a three-day visit to India on Sunday in Chandigarh, a northern city designed by French architect Le Corbusier.

"We aim for an accord between our governments," Hollande told reporters. "We're at a new step here, and it goes in the right direction."
Modi asked for 36 Rafale planes during a trip to France last April, scaling down an original order for 126 jets that had been in the works for years. Hollande said the two sides are still discussing key issues such as the price for the warplanes. French Energy Minister Segolene Royal, accompanying Hollande, said an accord signed by Arevain 2009 to build six 1,650-megawatt reactors would make a small move ahead.
More Warplanes
France and India have agreed on an option for the latter to buy an additional 18 warplanes at a future date, a senior Indian defense official said last week, asking not to be identified because the information wasn't public yet. The nations have also resolved what equipment, systems and weapons would go into the jet, the official had said.
The reactors are planned for Jaitapur, a coastal town in India's western province of Maharashtra. Areva was seeking further clarity from India on its nuclear liability law before moving ahead with what would be India's biggest nuclear plant.
The agreement India and the U.S signed recently over insurance-related issues for nuclear plants will help in overcoming certain hurdles, Royal said.
India last year pledged to create a 15 billion rupee ($222 million) insurance pool to shield nuclear plant operators, as well as equipment suppliers, against damages during an accident. Some have argued the pool may not be sufficient.
Before it's here, it's on the Bloomberg Terminal.
LEARN MORE