China Jobs Health Check: Holding Up, But Watch Out for Headwinds
Bloomberg News
Employment robust through '15; economic backdrop is weakening

Reducing overcapacity adds greater uncertainty to labor market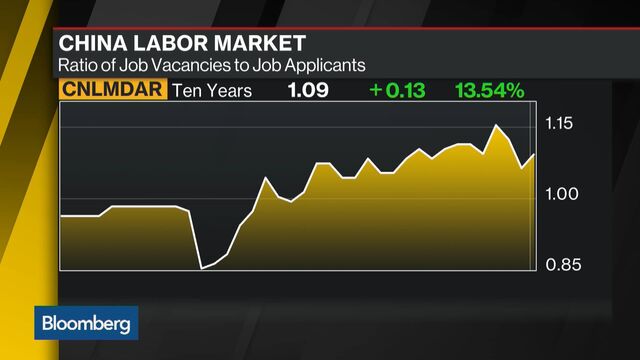 For all the hand wringing over China's economic slowdown, the employment picture has so far remained immune to tumbling stocks, a sliding currency and waning industrial growth.
The nation added about 13 million new jobs last year -- that's more than the entire population of Greece -- exceeding the government's 10 million target.
Services -- which made up more than half of the economy for the first time last year -- drove hiring of nannies, bankers, couriers and programmers. Population aging, while a drag on economic vibrancy, is helping prevent a rise in joblessness by shrinking the size of the workforce at the same time economic growth slows.
This year, the jobs market's resilience will be tested anew by plans to cut excess industrial capacity and restructure bloated and inefficient state-owned enterprises. If the government delivers full-blown reform on that front, millions of jobs could go. Meantime, the heady pay gains of recent times are cooling, threatening to weigh on consumption -- a key prop to the economy last year.
Here's a look across the dials of China's labor market dashboard and what to watch for in 2016:
Firm Jobs
Unemployment dropped to 5.01 percent in December from 5.2 percent in September, according to comments Jan. 19 from the head of the National Bureau of Statistics, citing surveys of 160,000 households.
Another reading due this month from the Ministry of Human Resources and Social Security will probably also show resilience. The ratio of jobs available to job seekers, collected from employment services institutions in 101 cities, was about 1.09 in the third quarter. Figures above 1 show more job openings relative to applications.

Uncertain Outlook
There are some warning signs, including those included in both official and private manufacturing purchasing managers' indexes. The employment components of these survey based gauges were below the 50 line that separates improving and deteriorating conditions last year. The official non-manufacturing PMI's job indicator only recorded one quarter above 50 since the second quarter of 2014.
Another wrinkle is that many of the new jobs aren't for high-quality, high-wage positions.
"The good employment situation comes at the cost of the quality," economists at Renmin University's Institute of Economic Research wrote in a recent report, referring to some state-owned companies cutting salaries and reducing hours to avoid sweeping layoffs.
The Beijing-based researchers estimated that the world's second-largest economy must keep growth above 6.7 percent to ensure creating 10 million jobs this year. This year's expansion will be 6.5 percent, according to economist estimates compiled by Bloomberg.
Services, a major growth driver and engine of job creation, has shown slightly weaker momentum, slowing to 8.2 percent in the fourth quarter from 8.6 percent in the third.
Zombie Companies
Policy makers have prioritized cutting excessive industrial capacity and slashing the number of "zombie" companies that survive only on government largesse and continued lending from state-run banks.
That's not easy. Reducing production by 30 percent in industries with the most excess capacity may cost 3 million jobs in the upcoming two to three years, according to researchers at Beijing-based investment bank China International Capital Corp.
"Cutting overcapacity will inevitably lead to unemployment," Zheng Dongliang, director of the labor science research institute of the Ministry of Human Resources and Social Security, said in a statement on the agency website. "Government policies and services need to be pre-emptive to help those employees find new jobs."
Income Growth
Income and wage growth have also slowed along with the economic deceleration. Per capita disposable income rose 7.4 percent in 2015 from a year earlier, according to inflation-adjusted NBS data, compared with an 8 percent increase in 2014.
For urban consumers, who buy more and wield the bigger pocketbooks, disposable income growth slowed to 6.6 percent last year, slower than the economy's expansion.
"We expect consumer spending growth to ease this year as wage increases moderate and the risk remains that the weakness in industry could spill over more forcefully into consumption," Louis Kuijs, head of Asia economics at Oxford Economics in Hong Kong, wrote in a recent report.
Average salaries for the country's 277 million migrant workers rose 7.2 percent in 2015, compared with a 9.8 percent jump in 2014, NBS data show.
"With growth of real household disposable income slowing and expected negative impact on employment and wages from closing of excess capacities, consumption will face headwinds in the coming year," Donna Kwok, a senior China economist at UBS Group AG in Hong Kong, wrote in a recent report.
— With assistance by Xiaoqing Pi
Before it's here, it's on the Bloomberg Terminal.
LEARN MORE