Baidu Enters the Global Race for Driverless Car Domination
Bloomberg News
Tech giant sees edge from its artificial intelligence work

Flush with cash, Chinese Internet companies eye new markets
Wang Jing bought his first car, a Dodge Shadow, with $3,000 he scratched together working three part-time jobs in the U.S. as a postgraduate student in Florida. These days, the senior vice president in charge of Baidu Inc.'s autonomous driving efforts is far better paid. He's also a man on a mission: To push China to the forefront of the coming driverless-car era.
Baidu joins a crowded field. Google Inc., which started developing autonomous cars in 2009, has tested self-driving vehicles for more than 2 million miles and is considering making its self-driving car unit a stand-alone business under the Alphabet Inc. corporate umbrella later this year. Tesla Motors Inc. Chief Executive Officer Elon Musk has said his customers will be able to summon an electric car to drive autonomously from Los Angeles to New York within two years. General Motors Co. and Ford Motor Co. are also in hot pursuit of this emerging market.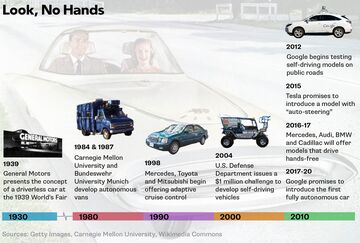 Undeterred, Wang, 51, sees a level playing field in the coming era of intelligent, autonomous cars--and one that China is capable of dominating.
"Chinese carmakers started making cars 100 years after others and a lot of the core technology aren't in Chinese hands, such as engines" said Wang. "With electric cars, with intelligent cars, the core technology shifts from the engine and gearbox to artificial intelligence and that's an area where China is very close to the U.S., giving China the chance to catch up and seize leadership."
Robotic Brain
Robin Li, Baidu's co-founder and chief executive officer, has invested heavily into a subfield of artificial intelligence known as deep learning, which aims to improve search results and computing tasks by training computers to work more like the human brain. The company hired Andrew Ng, a renowned computer scientist and expert in robotics and machine learning as Baidu's chief scientist in May 2014.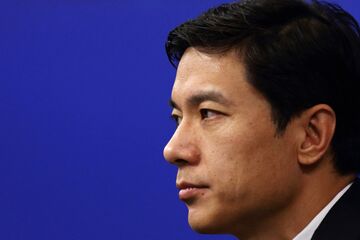 Wang thinks the company can leverage its expertise in artificial intelligence, data mapping and Internet connectivity to excel in autonomous driving technology. Getting China into that game is a priority for Chinese President Xi Jinping, who sees digital technology as an opportunity for Chinese manufactures to become more innovative. At a global Internet forum last month, Xi made the point of visiting Baidu's stand, where he listened to Baidu CEO Li discuss autonomous car development.
It may take time for Chinese companies to scale up in this business, according to Cao He, an analyst with Minzu Securities in Beijing. "There is a long way ahead for Baidu and other companies trying to mass produce and sell autonomous driving cars," said Cao. "Given the wide diversity of road conditions from one place to another, it is unlikely for any company to come up with a sizable industry operation within five years."
That said, there could be a lot of money at state. Baidu estimates that the Chinese market for car sales, buses, taxis and related transportation services is potentially worth more than $1.5 trillion a year in revenue. Getting a sliver of that could be a huge new revenue source for China's biggest search engine company.
By 2017, autonomous vehicles capable of traffic jam autopilot and autonomous valet parking should be on dealers' lots, followed by highway autopilot with lane changing in 2018, according to Boston Consulting Group. Vehicles capable of urban autopilot could be ready in 2022, paving the way for fully autonomous vehicles by 2025, according to the consulting firm.
"Chinese Internet companies like Baidu, flush with cash and confidence, are jostling for leadership in the holy trinity of the auto industry's future: electrics, car sharing and - autonomous cars," said Michael Dunne, president of Dunne Automotive Ltd. in Hong Kong. "Google enjoys a huge lead in autonomy today. But don't underestimate the Chinese will to compete."
Wang thinks Baidu will have a competitive advantage over Google and other automakers that test their artificial intelligence in the U.S. because of local knowledge of road conditions.
Chinese Roads
"Many people who have returned after years of living abroad find they're not used to driving in China, are afraid of driving in China because conditions are much more chaotic," Wang said. "If you have a robot that's trained on U.S. roads for instance, they'll struggle to adapt to the way Chinese cross roads. Our robots are trained on Chinese roads."
Baidu, which is talking to city authorities in China, plans to have their autonomous cars running in 10 Chinese cities within three years. It is also poised to have a small group of people try out their vehicles this year in a closed environment such as a conference venue, said Wang.
For the past three months, Baidu has been working with BYD Co., China's leading electric car maker, to equip Baidu AutoBrain system, a software package that incorporates technologies for driving, observing the environment and decision-making to BYD's vehicles, said Wang. Baidu may also join efforts with companies based in the U.S., according to Wang, who declined to name the candidates.
Wang refers to the Baidu AutoBrain system as the core of the company's autonomous-driving technology. Baidu's self-developed highly automated driving maps record 3D road data and are accurate to within a few centimeters for vehicle positioning. The object recognition and environment perception technology enables the car to detect and follow other vehicles with high accuracy, recognize road lanes and accurately gauge distance and speed, according to Wang.
There are all sorts of possibilities lying ahead for Baidu, said Wang. People may see Baidu-brand autonomous cars running on the streets one day, or they may find Baidu becoming a supplier of Baidu AutoBrain to assemblers. People may even see the day that a significant portion of Baidu's profit coming from autonomous driving business.
One thing is for sure, there is no turning back from the auto industry's shift to driverless cars, according to Wang. "My grandchildren definitely won't be requiring driving licenses."
— With assistance by Tian Ying
Before it's here, it's on the Bloomberg Terminal.
LEARN MORE