U.S., Russia Said to Near Compromise to Unlock Syria Peace Talks
By and
UN envoy to invite two Syrian opposition delegations to Geneva

Kerry says he's `confident' talks can `get going' in days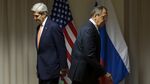 Russia and the U.S. are close to reaching a compromise to unlock the start of Syrian peace talks next week, three Western and United Nations diplomats said, averting the threat of a collapse of efforts to end the five-year civil war.
The UN Special Envoy for Syria, Staffan de Mistura, is expected to invite two separate opposition delegations to the negotiations in Geneva, said the diplomats, who asked not to be identified because the matter is still confidential. De Mistura is scheduled to provide details of the peace process at a briefing Monday in the Swiss city.
The UN-sponsored talks between the Syrian government and opposition, previously set to begin Monday, have been delayed by disagreement between the U.S. and Russia over which parties to allow to participate.
More than three months of Russian airstrikes in support of Syrian President Bashar al-Assad have turned the tide of the conflict, which has killed 250,000 people and led to Europe's worst refugee crisis since World War II. Assad's forces seized a strategic town on the Turkish border last week and are closing in on an Islamic State stronghold near Turkey.
Russia has objected to the inclusion of a radical Islamist militia -- Army of Islam -- in the Saudi-sponsored opposition delegation endorsed by the U.S. It has demanded that Moscow-friendly figures join the negotiations, including Qadri Jamil, a former Syrian deputy prime minister, as well as Saleh Muslim, co-head of the Syrian Kurdish group PYD, Kommersant newspaper reported on Saturday.
Under a compromise solution, Russia won't block the inclusion of Army of Islam at the talks in return for a separate delegation being invited with the opposition figures it has proposed, a Western diplomat in Moscow said.
Russian Foreign Ministry spokeswoman Maria Zakharova said she had no information yet about which opposition delegates will attend the talks in Geneva. A spokeswoman for de Mistura, Jessy Chahine, said a press briefing will be held on Monday to provide more details. A duty press officer at the U.S. State Department declined to immediately comment.
'Get Going'
U.S. Secretary of State John Kerry, who's in Saudi Arabia in part to seek a deal on Syria talks, said earlier this week that de Mistura might invite representatives in addition to the main opposition delegation formed in Riyadh in December.
"We are confident that with good initiative in the next day or so, those talks can get going," Kerry told reporters on Saturday in Riyadh.
The U.S., Russia and other nations have agreed on a timetable to form a transitional government in Syria by mid-2016 and hold elections in 2017. Russia has weakened U.S. opposition to Assad seeking re-election, according to Russian and Western diplomats. While the U.S. still says Assad can't lead Syria over the long term, the Obama administration has backed off insisting that he go at the start of a transition process.
The U.S. is leading a coalition to fight Islamic State, which has seized territory in Syria and neighboring Iraq. The group has claimed responsibility for attacks in Paris and Beirut in November, and the downing of a Russian passenger plane over Egypt in October.