Ireland's Kenny Pitches Jobs at Voters Facing Polls Within Weeks
Joe Brennan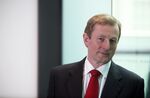 Irish Prime Minister Enda Kenny laid out plans to create 200,000 further jobs if his government is returned to power as voters face polling booths "in a few short weeks."
Addressing a gathering of his Fine Gael party before the vote, Kenny reaffirmed plans to abolish an emergency tax if re-elected, which would cut the tax rate for middle-income families to 44 percent from 52 percent.
"We've gone from economic wreckage to economic recovery," said Kenny. With the unemployment rate having fallen to 8.8 percent from 15.1 percent during the crisis as 135,000 jobs were created, employment growth remains the focus if returned to power, he said.
Kenny and his coalition partners in the Labour Party are pitching the campaign as a battle between stability and chaos, represented by the previous administration led by Fianna Fail and anti-austerity parties such as Sinn Fein. While a vote must be held by early April, Kenny has as so far declined to give the date.
Before it's here, it's on the Bloomberg Terminal.
LEARN MORE