Guindos Says Rajoy Still Best Choice as PP Grip on Power Fades
by
Guindos predicts left-coalition difficult to manage, not ideal

Economy minister says Spain can cut deficit below 3% of GDP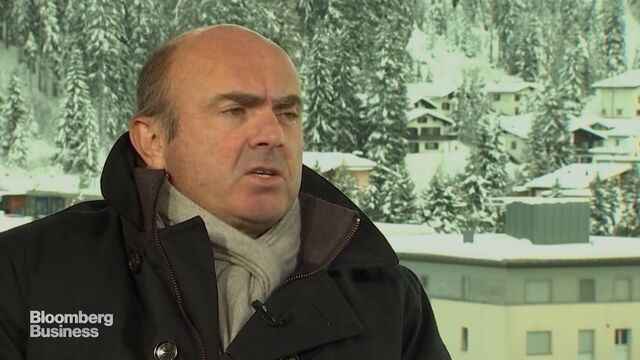 Spain's economy chief Luis de Guindos insisted acting Prime Minister Mariano Rajoy remains the best candidate to lead the nation, even as his conservative People's Party loses momentum forming a government in favor of a left-wing coalition.
Speaking to Bloomberg Television from Davos, De Guindos said the 60-year-old remains the party's best option even after Rajoy declined an invitation from King Felipe VI on Friday to seek parliament approval for a second term. While acknowledging he does not count with enough support to win a confidence vote, Rajoy said he would continue to negotiate and reiterated his candidacy for prime minister.
"He won the elections, he was the leader of government that implemented the most remarkable turnaround in recent times," De Guindos said. "The voters gave the victory to the People's Popular party, it's important to remember that."
Four weeks after an inconclusive election result, the confusing political scene is beginning to clear. With Rajoy accepting that his offer for a grand coalition failed to take off, the most likely outcome is fresh elections or broad left-wing coalition led by the Socialist party, which came in second in the Dec. 20 vote, and Podemos despite concern from senior Socialist party officials who see the anti-austerity party as a risky partner.
Podemos offered a governing pact on Friday that caught Socialist leader Pedro Sanchez by surprise. Announced at a press conference as Sanchez met with the king, Podemos offered a three-way coalition alongside United Left, another left-wing group, with Pablo Iglesias as Deputy Prime Minister and Sanchez as Prime Minister.
Asked about a potential left-wing coalition, Guindos said a government based on the support of parties like Podemos, an ally of Syriza in Greece, plus Basque and Catalan nationalists "would be difficult to manage," and such coalition would "not be ideal" from a market perspective. He insisted that much still needs to be negotiated.
Turning to the economy, Guindos said the recent fall in commodity prices that rattled world markets is a net positive for Spain's economy. Oil prices at $30 euros a barrel could give the nation's growth outlook a boost of half a point to 3.5 percent from the current government growth target of 3 percent this year.
The acting economy minister also insisted Spain would comply with its deficit reduction goal for less than 3 percent of gross domestic product in 2016, helped mostly by a pick up in tax revenue. His remarks came after the European Commission questioned Spain's budget forecast, seeing a deficit miss and calling for a new version to be submitted as soon as a new government is in place.
Before it's here, it's on the Bloomberg Terminal.
LEARN MORE