China, Iran Agree to Expand Trade to $600 Billion in a Decade
by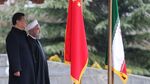 China and Iran mapped out a wide-ranging 25-year plan to broaden relations and expand trade during the first visit by a Chinese leader to the Islamic republic in 14 years.
President Xi Jinping met with his counterpart Hassan Rouhani on Saturday, a week after the lifting of international sanctions against Iran over its nuclear program. The Chinese leader is the first head of state of the six-country bloc that negotiated the historic deal to visit Iran.
Rouhani said the meeting marked "the beginning of an important era" in Iran-China relations, the official Islamic Republic News Agency reported. The visit was the first by a Chinese president in 14 years, official Iranian media reported.
"Today we discussed the strategic relationship between both countries, setting up a comprehensive 25-year plan and also promoting bilateral relations of up to $600 billion over the next 10 years," Rouhani said.
The two countries signed 17 documents and letters of intent, IRNA reported, including treaties on judicial, commercial and civil matters. Long-term contracts in the energy and mining sectors were also discussed, Rouhani said. Iran is seeking to attract $50 billion annually in foreign investment for the country's ailing $400 billion economy.
China is Iran's biggest trade partner, purchasing oil from Iran while sanctions over the country's nuclear program blocked U.S. and European competitors from the market.
Trade between the two countries stood at some $52 billion in 2014, before the plunge in oil prices.
The U.S. and European nations lifted oil and financial sanctions and released billions in assets after international inspectors concluded Iran had complied with the agreement to dismantle much of its nuclear program.
Xi arrived in Tehran late Friday on a tour of the Middle East. Earlier he visited Saudi Arabia -- Iran's regional rival and a fierce critic of the nuclear deal. Saudi recently cut ties with Iran after its embassy there was attacked in reaction to the execution of a prominent Saudi Shia cleric.
Rouhani said via Twitter that he and Xi also discussed security in the Middle East and how to help "countries plagued by terrorism."
Before it's here, it's on the Bloomberg Terminal.
LEARN MORE