What Rout? European Stocks Will Rebound 20%, Strategists Say
By
ECB stimulus, recovering domestic economy to fuel the rally

Four of 11 forecasters expect the Stoxx 600 to hit new record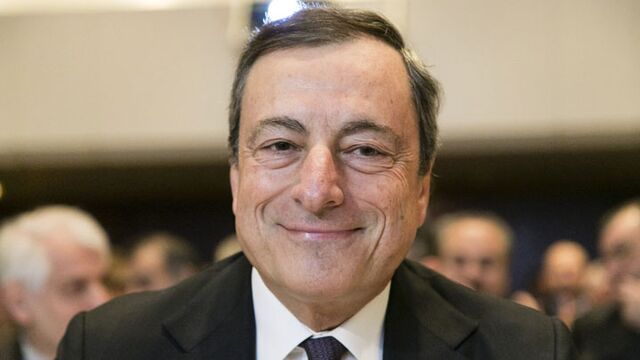 The worst start in years for European stocks is doing little to dim the view of the region's strategists, who are mostly holding on to calls for gains of almost 20 percent through December.
The Stoxx Europe 600 Index will rise to 402, according to the average strategist estimate compiled by Bloomberg. While that's lower than the 415 level forecasters targeted last month, they're still counting on European Central Bank action and an improving domestic economy to help recover from the plunge that sent shares to a one-year low. Equities jumped the most in a month on Thursday after President Mario Draghi signaled another boost in stimulus. They climbed even more on Friday.
"The ECB is opening the door a little bit further, and probably in the second half of the year rates will be cut again," said Philippe Gijsels, the chief strategy officer of BNP Paribas Fortis in Brussels. "You still have a fundamental story that is fairly intact. If valuations stay at these levels, you could see why markets could go that high."
Draghi acknowledged downside risks have increased since the start of the year and said the central bank may reconsider its monetary policy in March. Rates will stay at their current level for some time and may get cut, he said.

European shares fell into a bear market last week as global equities plunged on growing concern that China's slowdown will hurt the recovery, while oil deepened its rout. Germany's DAX Index has been among the most hurt, down 23 percent from its record last April. But there again, strategists are bullish, projecting the gauge will rebound 22 percent from the last close to 11,664 by December.
The rout dragged European stocks to their cheapest valuations in almost two years. As of yesterday, companies in the Stoxx 600 traded at 14 times estimated earnings, about 9 percent lower than U.S. shares.
A rally to 402 would mean a rise of almost 10 percent this year for the benchmark index -- its best performance since 2013 and a fifth straight annual advance. Deutsche Bank AG, the most accurate forecaster for 2015, sees the Stoxx 600 climbing to 380, or 16 percent from yesterday's close. While still bullish, it was one of the four firms to lower its forecast in the past month, out of 11.
Even as European equities appear oversold relative to financing costs and economic indicators, "we have concerns that those indicators may weaken, as the market absorbs the interplays between China and U.S. policy," Deutsche Bank analysts led by Mark Braley wrote in a note.
Still, almost half of the strategists surveyed by Bloomberg see the Stoxx 600 surpassing its record from last year. Economists forecast that Draghi's stimulus will help the euro area grow 1.7 percent in 2016, the most since 2010. Analysts predict earnings at Stoxx 600 companies will increase more than 5 percent this year and in the next two.
For Pierre Mouton, a fund manager at Notz, Stucki & Cie. in Geneva, it's just a matter of time until the market recovers.
"Draghi has to keep on going: compel the markets to believe that the banking system is in order, that the central bank is here, wants to lower the interest rates, to lower the euro and to stop any type of risk," said Mouton, who manages about $9 billion. "That's what he will do for the rest of the year. We can still see a strong rally. It will happen in the second half."