Credit Suisse Sees Flight From Emerging Markets as Opportunity
By
CEO Thiam says bank plans aggressive cost cuts this year

Can't have economy with high growth and low volatility: Thiam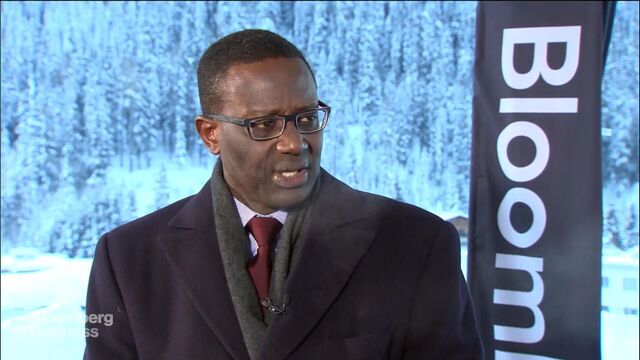 Credit Suisse Group AG is treating the turmoil in global markets as an opportunity to expand in developing countries, Chief Executive Officer Tidjane Thiam said.
"To have a successful emerging-market strategy, you need to have the appetite for this volatility and be able to ride it," Thiam told Bloomberg TV's Francine Lacqua in an interview Friday from the World Economic Forum in Davos, Switzerland. "We treat this as investment opportunities.
"When others are retrenching, suddenly teams who would never have talked to us, talk to us because others are leaving the region."
Thiam spoke as Asian stocks rallied from a 3 1/2-year low on speculation that some of the world's key central banks may be prepared to act to calm markets rocked by uncertainty over China's slowdown and oil's crash.
Switzerland's second-biggest bank after UBS Group AG is betting on growth in Asia, eastern Europe and other emerging markets, where it plans to build up its business of managing money for the wealthy.
By contrast, Barclays Plc is retreating from large parts of its business in the Asia-Pacific region to focus on the bank's home markets in Britain and the U.S. New Chief Executive Officer Jes Staley plans to pull out of countries including Australia, Taiwan, South Korea and Indonesia, according to people with knowledge of the matter and memos seen by Bloomberg. Regional hubs will be maintained in Hong Kong, China, Japan, Singapore and India, according to the information that emerged this week.
As developing countries play a bigger role in the global economy, they will continue to be volatile, Thiam said.
"You can't have an economy that's high growth and low volatility," he said. "That's something the market needs to get comfortable with."
Credit Suisse plans to cut costs "aggressively" to make sure it can continue to function if there's no improvement within a few quarters, he said. "We try to do well even if things don't improve."
Credit Suisse sold 6 billion francs ($5.9 billion) in stock late last year to help fund an overhaul of operations and shore up its capital base.
Thiam, the former CEO of the British insurer Prudential Plc, took the top job at Credit Suisse in July, succeeding Brady Dougan, who had led the Swiss bank since before the financial crisis.