SAP Raises 2017 Forecasts as Cloud Business Growth Quickens
by
Company is weathering transition to software over Internet

Shares fall slightly as software profit margin set to dip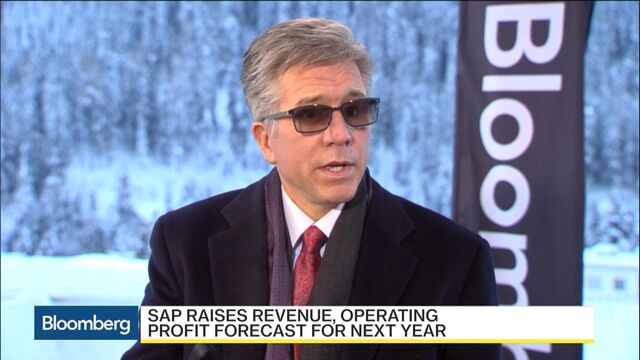 SAP SE showed progress in remaking itself as a supplier of cloud computing software as more customers adopted a revamped version of its main product, prompting it to boost sales and profit forecasts for next year.
The company on Friday raised the top end of its forecast for 2017 sales by 7 percent to as much as 23.5 billion euros ($25.5 billion), crediting increasing adoption of Internet-based software that generates more predictable revenue than software licenses. It also increased the lower end of its operating profit outlook for next year.
SAP, the biggest maker of applications used by companies to manage processes from manufacturing to marketing, is pitching customers on an overhauled version of its core management software, S/4 Hana, whose functions can run in their data centers or SAP's. Like competitors Oracle Corp. and International Business Machines Corp., it's weathering a sometimes rocky transition to software delivered over the Internet rather than installed on customers' sites.
Even as some analysts welcomed SAP's progress, the stock failed to rally amid concerns that new, lower-margin products will erode profitability. The shares were up less than 1 percent at 71.88 euros at 3:30 p.m. in Frankfurt after having fallen earlier in the day.
Knut Woller, an analyst at Baader Bank, said he expected operating margins next year of 30 percent to 32 percent, compared with an implied 29 percent to 30 percent range based on today's forecast.
"A market participant could take that as a negative surprise," said Woller, who recommends buying the shares.
Walldorf, Germany-based SAP has said more than 2,700 customers are running the new S/4 Hana suite, more than double the number at the end of the third quarter. That tees up future growth as those customers add functionality and pay recurring support fees.
The Hana database, which sits underneath S/4 applications and competes with market leader Oracle, has generated 4 billion euros in license and maintenance revenue since its release six years ago, Chief Executive Officer Bill McDermott said in an interview. S/4 sales have exceeded 1 billion euros.
"Hana is now a 4-billion euro franchise," he said. "That makes it a market-share gainer. With S/4 Hana, we already have a 'B' on it. Now the question is how many Bs we're going to add by 2020."
McDermott, speaking from the World Economic Forum in Davos, Switzerland, said he continues to wear dark glasses to conceal the effects of 10 surgeries last year after losing his left eye in a household accident. Even as the scars heal more he'll continue wearing lighter glasses to protect his remaining eye, he said.
Raising Outlook
SAP's 3.7 billion euros in deferred cloud-computing revenue "gives shareholders tremendous belief in the progress we have made in the cloud," McDermott said on a call with reporters. "The predictability of our company has also changed dramatically."
Sales will increase to 23 billion euros to 23.5 billion euros in 2017, and operating profit adjusted for some items will be 6.7 billion euros to 7 billion euros, SAP said in a statement Friday. That's higher than a forecast given a year ago for earnings of 6.3 billion euros to 7 billion euros on sales of 21 billion to 22 billion euros. 
Revenue in 2015 by comparison was 20.8 billion euros and operating profit was 6.35 billion euros.
SAP also reported full results for last year, after releasing preliminary numbers on Jan. 11. Revenue for the fourth quarter rose 16 percent to 6.35 billion euros and adjusted operating profit rose 7 percent to 2.28 billion euros, both topping analysts' estimates.
Geographically, the Americas was the company's strongest growth region. Cloud and software revenue climbed 27 percent, propelled by the U.S. Asia-Pacific cloud and software revenue rose 18 percent, while Europe, the Middle East and Africa saw an 11 percent rise in the same measure.
Margin Pressure
The transition to cloud computing, in which customers pay SAP subscription fees rather than making up-front purchases, yielded a fourth-quarter operating margin of 35.9 percent, lower than the consensus estimate and down 3 percentage points from a year earlier, according to Nomura analyst Frederick Grieb.
SAP two years ago had been guiding investors to an overall operating margin of 35 percent by 2017, which it walked back last year. On Friday, Chief Financial Officer Luka Mucic said its cloud software business was unlikely to reach that level of profitability by even the decade's end, and that the measure was less relevant now.
"The margin is really uninteresting to me," he said. "There's no reason cloud margin shouldn't reach the level of on-premises software, but that will take substantially longer than this decade."
Before it's here, it's on the Bloomberg Terminal.
LEARN MORE