Why iPhones Are Quickly Selling Out in Russia
by
Stores say consumers buying before ruble prices are adjusted

Apple set lower prices for Russian partners amid recession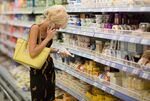 Russian retailers say they're running out of iPhones as consumers rush to buy before prices are adjusted to reflect the local currency's slump to a record low against the dollar.
"We are facing a shortage of the simplest iPhone 6 model because of outperforming demand for it this month, especially in last two days when the ruble plunge gave an additional boost to sales," said Maria Zaikina, a spokeswoman for Svyaznoy retailer, which runs more than 2,800 handset shops across Russia.
The ruble has plunged beyond the lows it touched at the peak of Russia's financial turmoil in December 2014 and one-month swings have made it the most volatile currency among emerging-markets peers after oil prices sank to a 12-year low. The exchange rate touched 86 rubles per dollar in yesterday's trading, compared with 61 rubles in October. Apple Inc. allowed Russian retailers to sell lower-end iPhone models at a discount to boost demand amid recession.
The 2014 currency collapse also spurred customers to spend their rapidly depreciating savings on electronics and other big-ticket items while retailers sought to hold ruble prices steady.
"Some of out stores have run out of 64-gigabyte iPhone 6 models as demand exceeded our expectations," said Lyudmila Semushina, spokeswoman for retailer re:Store. The company's iPhone sales in units rose 37 percent in December and 10 percent in the first ten days of January, she said.
"Demand for iPhone and MacBooks is rising over the last two days amid the ruble's plunge," Semushina added.
An Apple representative in Moscow declined to comment.
Before it's here, it's on the Bloomberg Terminal.
LEARN MORE