Osborne Denies Prospect of U.K.'s EU Referendum Deters Investors
by and
Chancellor says Britain is a `bright spot' of global economy

Osborne speaks in Bloomberg Television interview in Davos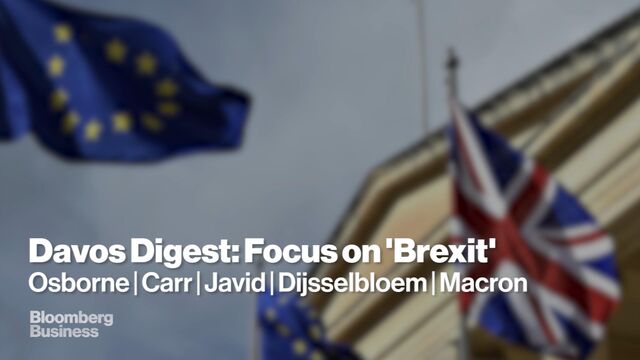 Chancellor of the Exchequer George Osborne said Britain's impending referendum on whether to stay in the European Union isn't hampering investment as he underlined the need for reform of the bloc.
"I don't detect at the moment that it's deterring investment in the U.K., far from it," Osborne said in an interview with Bloomberg Television at the World Economic Forum in Davos, Switzerland, on Friday. "I would say we're one of the bright spots of the global economy. We're getting the lion's share of inward investment into Europe at the moment."

Some EU officials have suggested a deal between the 28 countries in the bloc on Britain's demands for a renegotiation of its membership terms may be reached at their leaders' next summit in February, allowing Prime Minister David Cameron to hold the referendum as early as June. He has pledged to have the vote by the end of 2017.
French Economy Minister Emmanuel Macron, also speaking to Bloomberg Television in Davos, described a possible U.K. exit from the bloc as "a lose-lose option." Withdrawal is "not good for the U.K. and it's not good for the EU," he said Friday. "Our objective is definitely to keep the U.K. as part of the EU."
Polling on the referendum has been inconclusive, with some online surveys showing the outcome too close to call and others conducted by phone suggesting a lead of around 20 percentage points for the campaign to remain in the EU.
Business Backing
Osborne's cabinet colleague, Business Secretary Sajid Javid, said in a separate interview in Davos Friday that businesses back the government's plan for reform, telling Bloomberg Television "the kind of things they want to see is exactly" what Cameron is pushing for. The prime minister has set four goals for his renegotiation, the most controversial of which is a demand to limit welfare payments for immigrants from other EU countries.
"We want all of Europe to benefit and we can do better if we work together and get these reforms," Javid said.
The business secretary, who's expressed euro-skeptic sentiments in the past, refused to be drawn on whether he might campaign to leave the EU if a satisfactory deal isn't achieved.
'Any Time'
Cameron told business leaders in Davos Thursday that he's "not in a hurry" to do a deal on the terms of Britain's EU membership, though he again said he's confident of reaching an agreement next month. "I can hold my referendum at any time until the end of 2017," he said.
"Many people here of course would like Britain to stay in the European Union," Osborne said. "It's very important to Britain's future that we are in a reformed European Union, that our continent is not priced out of the world economy."
He urged the euro area to press ahead with efforts to bolster economic growth. "We need to see that reform path now implemented," he said.
Before it's here, it's on the Bloomberg Terminal.
LEARN MORE