Oil Plunge Imperils Iraq's Fight With Islamic State, Abadi Says
By and
Collapse in crude `a surprise,' says Iraqi prime minister

Neighbors must stop sectarianism, confront extremism together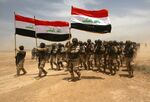 Prime Minister Haidar al-Abadi said the plunge in oil prices means Iraq needs IMF support to continue its fight against Islamic State, a battle he says his country is winning despite little support from its neighbors.
"We've been anticipating there would be some drop of prices but this has taken us by surprise," Abadi said of the oil collapse in an interview at the World Economic Forum in Davos, Switzerland. "We can defeat Daesh but with this fiscal problem, we need the support" of the International Monetary Fund, he said. "We have to sustain the economy, we have to sustain our fight."

The conflict with Islamic State, which swept through swaths of northern Iraq in the summer of 2014, has destroyed economic infrastructure, disrupted trade and discouraged investment. Iraq is now facing the "double shock" of war as well as the crude-oil price drop, and has "urgent" balance-of-payment and budget needs, the IMF said in January as it approved a staff-monitored program to pave the way for a possible loan. Under the program, Iraq will seek to reduce its non-oil primary deficit.
"We have cut a lot of our expenditures, government expenditures," Abadi said in the interview. But the war brings its own costs. "We are paying salaries for the uniformed armies, for our fighters" and their weapons, Abadi said in Davos.
'On the Retreat'
Speaking later in a panel session in the Swiss resort, Abadi said Iraqi oil sold on Thursday for $22 a barrel, and after paying costs the country is left with $13 per barrel.
He called for neighbors to do more to help. The only country to have provided financial assistance is Kuwait, he said, which gave Iraq $200 million.
"Daesh is on the retreat and it is collapsing but somebody is sending a life line to them," Abadi said, citing victories for his forces in the key western city of Ramadi and using an Arabic acronym for Islamic State. "Neighbors are fighting for supremacy, using sectarianism."
Shiite Iran supports several of the biggest militias aiding Iraqi forces in the fight against Islamic State. Its rivalry with the Middle East's biggest Sunni power, Saudi Arabia, has flared in recent weeks, complicating efforts to end conflicts in Iraq, Syria and Yemen.
Iraq has managed to stop the advance of Islamic State in Iraq but if neighbors continue to inflame sectarianism, successes can be reversed, he said.
"We are supposed to be in the same boat," Abadi said. "In reality, we aren't."