Norwegian PM Says Krone Now Weak Enough to Cover Oil Crisis
by
Says oil industry in a crisis, not Norwegian economy

Says will take longer for crude oil prices to recover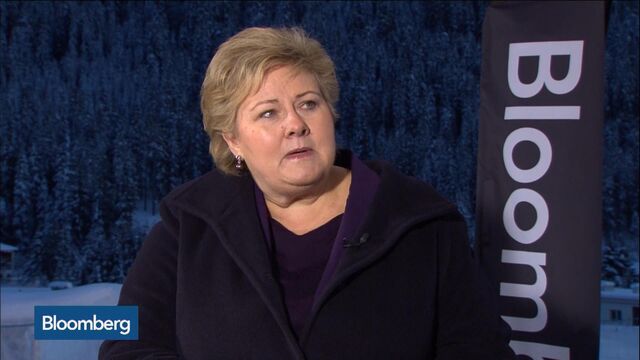 Norway's premier said the krone is now weak enough to shield large parts of the economy from the crisis that is gripping the nation's oil industry.
"I don't think we need a weaker currency than we have now," Prime Minister Erna Solberg said in an interview Friday with Bloomberg's Francine Lacqua and Erik Schatzker in Davos. "It has stimulated quite a lot of the other businesses."
The economy of western Europe's biggest petroleum exporter is being helped by its weakening currency to withstand a plunge in the price of oil. While the krone has risen in the past two days, it's still down about 15 percent against the euro from a high last year.

Solberg said that while the nation's oil industry is in a "crisis," the overall economy is not. The government is spending a record amount of its oil wealth this year to stimulate growth and as it dips into its massive sovereign wealth fund for the first time.
Solberg said she's optimistic that the price of crude will eventually recover.
"There will be some activity going up at this price," she said. "There will be an increase in the years to come but it will take longer time than we anticipated earlier."
Norway depends on oil and gas for about one-fifth of its economic output and nationwide, the petroleum industry has cut almost 30,000 jobs. The price for the benchmark Brent oil blend reached a 12-year low of $27.10 this week, compared with a 2014 high of $115.
Before it's here, it's on the Bloomberg Terminal.
LEARN MORE