Morgan Stanley Awards Gorman $4.64 Million in Stock for 2015
by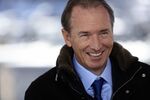 Morgan Stanley Chief Executive Officer James Gorman's compensation package for last year includes a $4.64 million stock bonus.
Gorman, 57, received 183,678 restricted shares, according to a Friday regulatory filing. His $1.5 million salary has already been disclosed, and the New York-based bank will report details about his cash bonus and long-term incentives later this year. Mark Lake, a Morgan Stanley spokesman, said Gorman's total compensation will be "modestly" lower.
Morgan Stanley shares slumped 18 percent last year, the worst performance among the biggest six U.S. banks, as the firm struggled to improve returns at its fixed-income trading division. The company this month unveiled a $1 billion cost-cutting initiative and new leadership of a scaled-back bond-trading unit. Last year's share decline was the second-worst performance under Gorman, who became CEO in 2010.
Gorman, who's also chairman, received a $22.5 million compensation package for 2014, 25 percent higher than the previous year. His pay included $4.42 million in restricted stock and $5.38 million in deferred cash, along with a $6.5 million long-term incentive dependent on the bank hitting performance targets. He also got a $4.7 million cash bonus and $1.5 million salary.
Goldman Sachs Group Inc. awarded Chairman and Chief Executive Officer Lloyd C. Blankfein $23 million in salary and cash and stock bonuses for 2015, down 4.2 percent from a year earlier, based on a company filing Friday. Profit at New York-based Goldman Sachs slumped and shares lagged behind peers during 2015.
JPMorgan Chase & Co. boosted Jamie Dimon's pay 35 percent, tying most of the package to future performance. The bank awarded Dimon, its CEO and chairman, $27 million for 2015, up from $20 million a year earlier, according to a regulatory filing Thursday. The package includes $20.5 million in performance share units, a new pay element tied to future targets. Dimon also got a $5 million cash bonus and a $1.5 million salary.
Before it's here, it's on the Bloomberg Terminal.
LEARN MORE