Market Volatility Did the Work of Four Fed Rate Hikes: Morgan Stanley
by
Financial conditions have tightened since Fed met in December

Federal Open Market Committee to next meet Jan. 26-27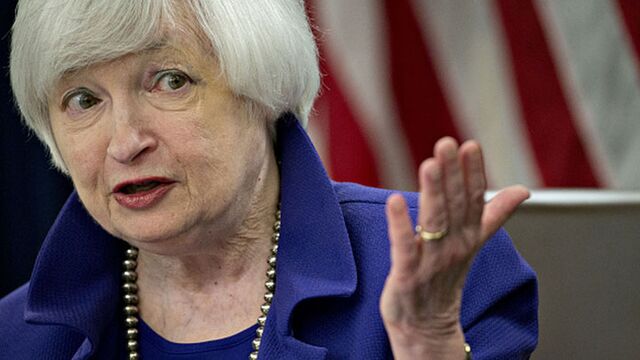 Volatility in financial markets since the Federal Reserve last month announced its first interest-rate increase in nearly a decade is having the same effect as four additional quarter-point hikes, according to Morgan Stanley.
"Financial conditions have tightened materially -- by our estimation the economic equivalent of four rate hikes," analysts led by New York-based Morgan Stanley Chief U.S. Economist Ellen Zentner said in a note to clients on Thursday.
Since U.S. central bankers met in December, volatility has increased in global financial markets. The Standard & Poor's 500 index has fallen about 9 percent, while crude oil prices have dropped 11 percent.
Forecasts released after the Federal Open Market Committee's Dec. 15-16 meeting showed the median policy makers' projection for four additional rate increases in 2016, based on their estimates for growth, inflation and unemployment. The FOMC next meets Jan. 26-27.
The median projection for growth in gross domestic product this year was 2.4 percent, while core inflation, measured by the price index of personal consumption expenditures, excluding food and energy, was expected to reach 1.6 percent and the unemployment rate was seen declining to 4.7 percent.
"The writing will be on the wall for many of the forecasts Fed participants had turned in at the December meeting -- forecasts that seem increasingly implausible to achieve," the Morgan Stanley economists said.
By their estimates, market movements since the FOMC voted Dec. 16 to increase its benchmark federal funds rate by a quarter percentage point will knock 0.2 percentage point off GDP growth this year and 0.3 percentage point next year, and reduce core inflation by 0.1 percentage point in 2016 and 0.15 percentage point in 2017.
Morgan Stanley predicts the FOMC will opt to leave rates unchanged next week and may keep policy on hold at the committee's March 15-16 meeting as well. "The bar for an additional hike in March seems insurmountable now," the economists said.
Before it's here, it's on the Bloomberg Terminal.
LEARN MORE